The procedure of painless for dental implant at Nhan Tam Dental Clinic
Date: 31/05/2018
/
Author: Ms Trúc
One of the biggest concerns of those who intend to plant dental implants is fear of pain. In this article, we will give specific information to patients to eliminate the fear, anxiety before deciding to choose this method to overcome the state of tooth loss.

Dental implants in Nhan Tam - 5 stars

Dental implants for people with missing teeth

OUTSTANDING OF ADVANTAGE FOR DENTAL IMPLANT
Successful implant planting requires many factors. Among them, the piezotome ultrasound machine is one of the most effective technologies. Nhan Tam dentistry has applied this technology in all general oral surgery and implants implant in particular.
More than 30 years ago, this ultrasound was invented for brain injury surgery. The ultrasound bone cutting machine was introduced by Horton and his colleagues in 1975. Until 2001, Vercellotti improved and developed it to protect nerves and soft tissue during non-invasive surgery. The alternative to classical equipment.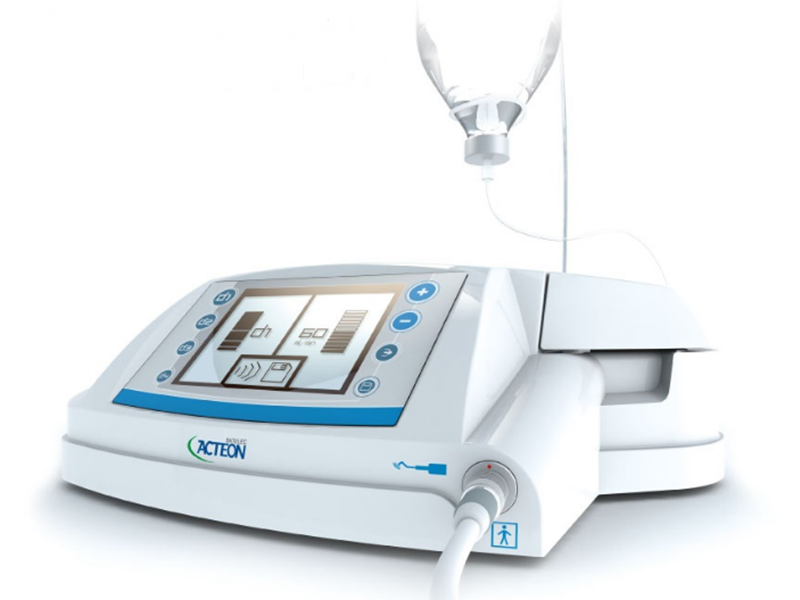 Piezotome system supports rapid, painless surgery
Piezotome ultrasound does not invade the nervous structures, sinus membranes, blood vessels as well as meninges. These are very important factors in implant surgery.
According to a study by Hollstein S in the Journal of Clinical Implant Rehabilitation (Oral Impl), published in 2001, the results under the optical microscope and electron microscope showed the bone surface after cutting by machine. This sound is still intact. He concluded that piezotomy does not damage the bone at the histological level.
In 2001, Soldner & Herr also studied and said that after bone cutting, bone structure intact also helps the blood supply and cells move easily, high bone potential so positive impact. healing process of bone. In addition, a study by Preti 2007 suggested that Cytokins during inflammation are essential for the early stages of healing. But when severe trauma due to traditional hand-cutting methods, high levels of cytokines and long-term effects affect the healing time.

In 2007, Acteon-Satalec scientist used Piezo - Ultrasonic technology used in the field of dentistry, safety testing for implant surgery, bone grafting, sinus lift. The ultrasonic piezotome shakes flexibly with a selective frequency of 28 - 36 Khz, which acts on hard tissues, without damaging soft tissues. It is the frequency modulation of ultrasonic wavelengths that provides the smoothness of the surgical procedure, optimal cell regeneration, effective postoperative pain relief, and rapid healing. fast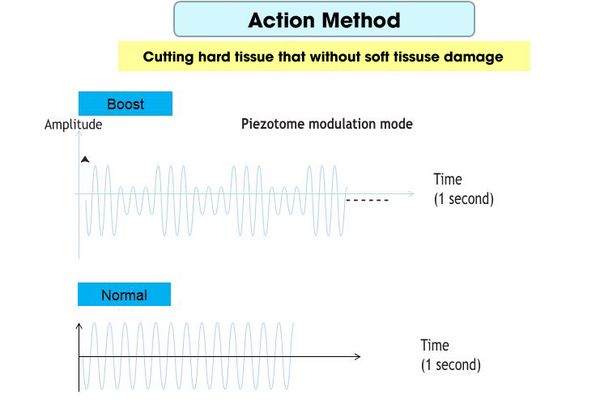 Flexible ultrasound waves provide comfort to the patient
Neurosurgery, brain skull surgery is a surgical procedure in very sensitive areas, but piezotome ultrasound is still a good fit. Therefore, it received high praise from the professionals and became the first choice in complex surgical techniques. As such, it has indications in implant surgery such as enlargement of the osteosarcoma, surgical removal of the sinus, bone reconstruction, correction of the bone shape and preparation of the hole to place the implant.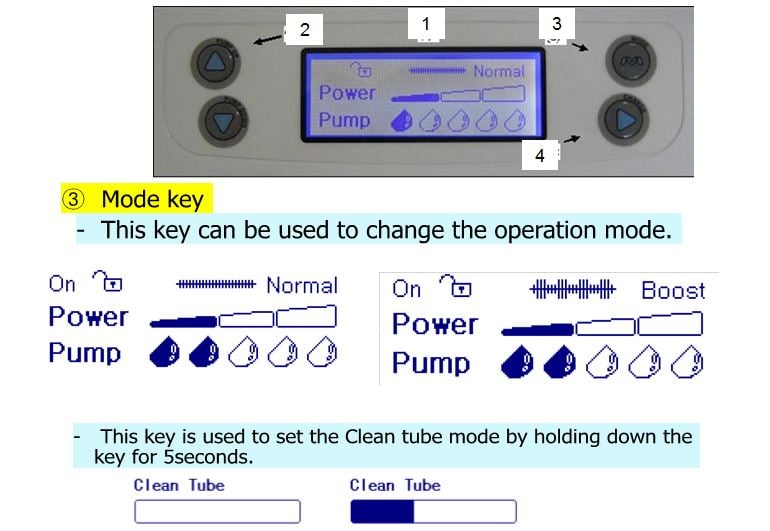 Correctly adjusting the new levels can ease pain for the patient during surgery
The effectiveness of the piezotome ultrasound machine contributes to successful implant success. However, the physician must be knowledgeable about the mechanism of action and use the new functions to achieve high efficiency. For example, for the opening of the sinus cavity window, use the Sohn 016 drill bit and set it to 3 (max) and 3 (mid) water levels. Adjusting these levels accordingly, gentle spraying will not puncture the sinus membrane and cool during bone drilling, without causing pain to the patient.
TS - Dr. Vo Van Nhan is a participant in teaching courses on the use of ultrasonic bone cutting machines and Ultrasonic Piezo - Ultrasonic technology, so this application is applied correctly by dentists. Maximum effect, not only do not cause pain but also give patients the feeling of comfort, lightness during the implementation process.

THE PROCEDURE FOR IMPLANT PLACEMENT AT NHAN TAM DENTAL CLINIC
The procedure for implant placement at Nhan Tam dental clinic are always in strict accordance with international standards. The conditions needed and enough during implant planting are guaranteed to the best.
Step 1: General examination and counseling.
Step 2: Panorex film and cone beam film to examine jaw bone condition.
Step 3: Analyze the image, feedback the results to the customer.
Step 4: Get a sample of the jaw and place the implant in the ideal position for each case.
Step 5: Make treatment regimen.
Step 6: Implant surgery.
- Conduct anesthesia with anesthetics imported from France.
- Use implant implant software Simplant 3D implant in the right direction.
- Piezotome ultrasound system for painless and quick healing.
Step 7: Make porcelain teeth and porcelain restorations on the implant.
Step 8: Guide home care and schedule a follow-up visit.


THE STERILIZATION PROCESS AT NHAN TAM DENTAL CLINIC

Sinus implants, bone grafts, implant implants will be pre-selected for each type of implants that are suitable for the patient's clinical condition. Particularly small tools such as drill bits, drills ... which are difficult to clean by conventional means should be immersed in Hexanios sterilizer in ultrasonic vibrators prior to rinsing with clean water.
In particular, the air around the operating room is also disinfected with Anios special Djp SF and shone by ultraviolet light. Daily operation room is cleaned up. Chairs, machines, instrument tables and blood pressure monitor support devices are cleaned with antiseptic.
The results and methods may vary depending on the individual's physical condition
Experiencing thousands of different implants, doctors have learned valuable lessons learned about the mechanism of pain in each case. From these conclusions, the new doctor controls the pain mechanism of the patient, analyzes the state of hard tissue, soft tissue from which provide appropriate healing methods.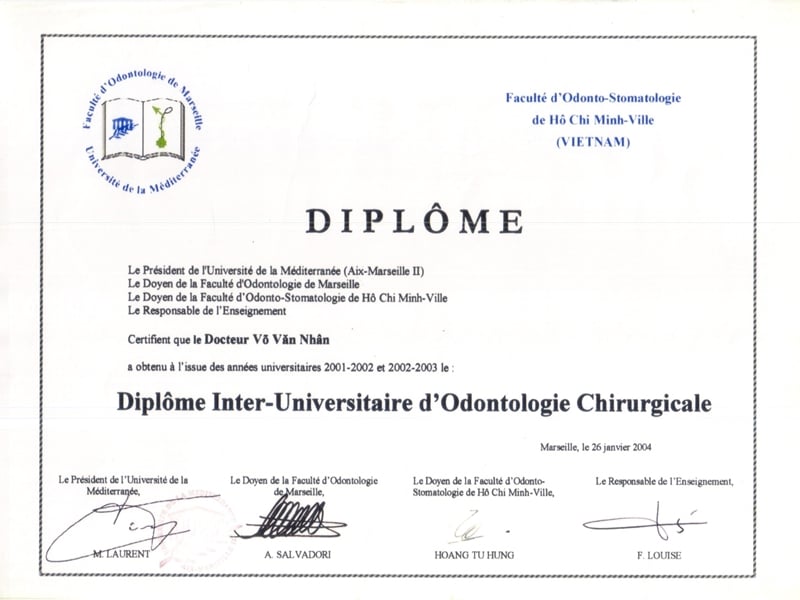 Dr. Vo Van Nhan graduated from a two-year training program on implants implanted by lecturers at the University of Marseille in France.
Prof. Dr. Vo Van Nhan is always in control of the mechanism of pain and overcome the possible complications. With the support of implantation technology with the ultrasound Piezotome, implants implants in Nhan Tam dentistry are always safe, effective and painless for patients.
Dr. Vo Van Nhan is also the first doctor in Vietnam to successfully perform three of the most specialized and complex implant techniques: nerve displacement technique, implants implant and cheek implants. no innate teeth.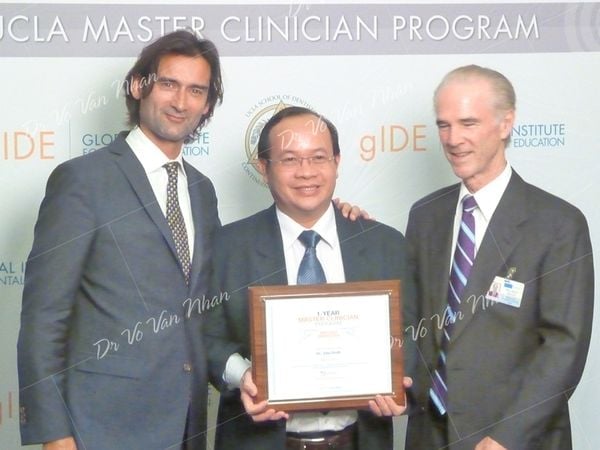 Dr. Vo Van Nhan graduated from Master Implant program at UCLA - USA in 2012
With the standard of treatment, equipment and modern technology, sterile conditions ensure international standards, Nhan Tam dentistry has gained the trust of many domestic and foreign patients. . Dental implant treatment at Dental Nhan Tam is committed to bringing safe and effective results.


NHAN TAM DENTAL CLINIC
Address: 801-809, 3/2 Street, Ward 7, District 10, HCMC
Hotline: 1900 56 5678
Thank you for visiting www.nhakhoanhantam.com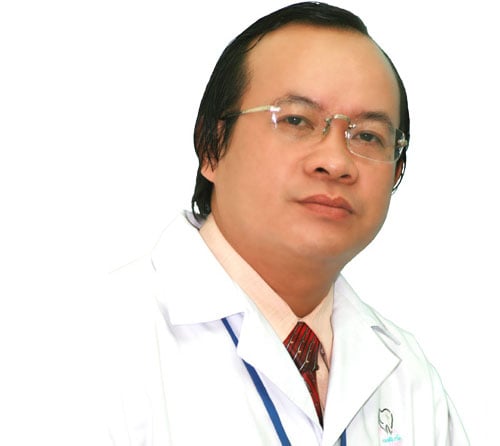 FIVE GOLDEN ELEMENTS MADE THE NHAN TAM DENTAL CLINIC BRAND
Professional ethics is the primary responsibility li>
Update and apply the latest dental technology to the treatment li>
Yearly experienced dentists team and 20 years customer's verification li>
Focus on the quality of service, ensure the results li>
The best customer care and services li>

COME WITH US TO GET YOUR HEALTHY TEETH
801-809 3/2 Street, Ward 7, District 10, Ho Chi Minh City, Vietnam li>
Hotline: 1900 56 5678 li>
Mobile: (+84) 903 632 701 - (+84) 938 967 858 li>