Bone graft in patients with upper alveolar bone
Date: 31/05/2018
/
Author: Mr Hiếu
Self-alignment of bone in patients with upper maxilla (Journal of Vietnamese Medicine, March-2/2013, Vol. 404, pp. 87-90).

Nhan Tam Dental Clinic - Address prestigious and effective braces in Ho Chi Minh City

The best and most prestigious braces today
Dr. VAN VAN NHAN
Summary:
From 2008 to 2011 we conducted a bone graft in 49 patients, including 28 males and 21 females, from 18 to 61 years old. Where to get the bone: get the bone from the chin area 22 patients. Taken from the posterior area of ​​15 patients. Taken from the 12 patients' iliac crest. A total of 79 bone grafts (24 longitudinal bone grafts, 55 transverse bone grafts) were used for 49 cases of osteosarcoma and 101 implants for 79 bone grafts . All implants achieved initial stability (over 35N / cm), 100% implant exist (no implant failure). 10.5 months follow up. 78 out of 79 successful pieces accounted for 98.7%. One failure piece accounted for 1.3%. There are 73 out of 79 transplant recipients, with no need for bone grafting at 92%.
Key words: bone graft, implant
Summary:
AUTOGENOUS BLOCK BONE GRAFT IN PATIENTS FOR MAXILLARY ALVEOLAR RIDGE DEFECT
From 2008 to 2011 we have done autogenous block bone graft for 49 patients, including 28 men and 21 women, aged 18 to 61 years old since 2008 - 2011. Doner site: Autogenous block bone grafts were harvested from symphysis, retromolar region and iliac crest. in 22, 15 and 12 patients, respectively. A total of 79 block bone grafts (24 verticals and 55 horizontals) were used to augment 49 severe alveolar ridge defect. There are 101 implants placed in 79 sites of bone augmentation. All of the implants had a primary stability (35N / cm), 100% implant survival (no implant failure). Follow-up period time: 10.5 months. There are 78 out of the 79 graft successes 98.7%, 1 failed 1.3%. There are 79 out of 79 bores with enough bone to implant.
Key words: bone graft, implant.
I / Problem:
Implant implants have a remarkable effect. Today's method is more and more widespread. However, in order to have good results, there must be enough bone at the site. Upper jaw bone implantation by bone mass increases the volume of bone that is active on demand at the implant site. To evaluate the success, quality of grafted bone implants and follow-up complications, we do this study to:
An assessment of the clinical success rate of rebuilding the jaw in the event of upper alveolar bone loss is exacerbated by the use of self bone mass.
2. Assessment of the clinical success rate of the implant at the site of bone graft.
II / Subjects and methods of research:
2.1. Research subjects:
- The study was conducted on 49 patients, including 28 males and 21 females. Patients age 18-61. Study duration is 3 years (2008-2011)
Of the 49 patients, 22 had bone marrow transplants, 15 were transplant recipients from the posterior region, and 12 were transplant recipients from the iliac crest area.
Criteria for selecting patients:
All patients have good health, no contraindications for surgery under local anesthesia or anesthesia.
Patients who have partial or total tooth loss with multiple bones: Longitudinal bones 4 to 10 mm long and bone remaining in the horizontal (2-3 mm inwards).
Patients requiring bone graft and implant placement.
Criteria for exclusion of patients: patients with systemic diseases such as immunodeficiency, cancer patients, chemotherapy or radiotherapy, uncontrolled diabetes, cardiovascular disease, haemorrhage, smoking more than 10 cigarettes / day, periodontal disease progress.

2.2. Study method: prospective, cross sectional description
III / Research results:
All implants achieved initial stability (over 35N / cm), 100% of implant survived (no implant failure). Duration of follow-up was over 10 months.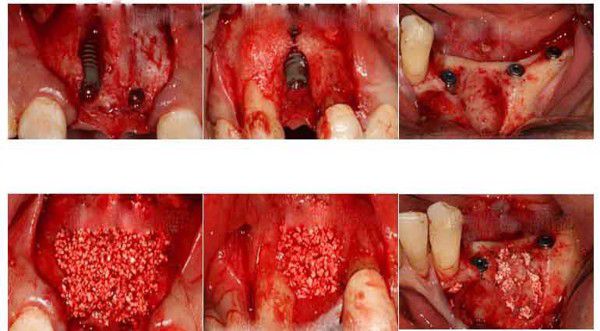 IV / Discussion
Auto-implantation of bone has been widely used to restore the severity of bone loss. Bone itself may be taken in the mouth or on the mouth and is considered a good prognosis to replace the wave volume. This study showed that the bones of the skull bone and bone marrow from the iliac crest, the chin region, were the true treatment with a high success rate for the recovery of the severely damaged bone. The success rate for the grafts is 98.7%, which is comparable to previous studies [7]. Complications were very low in the treatment group (8.3%), infections (1.2%), numbness in the chin (0.9%), postoperative lesions (0.6%) and after 6 weeks.
For patients who received bone from the pelvic region after surgery, 4 out of 12 patients had pain within 4 weeks. There were 5 cases (17%) needed to be implanted, 5 of whom had bone grafts from the iliac crease, while no cases required additional bone grafting when implants were implanted. Thus, it is possible to see the bones taken from the iliac crest with more bone loss than those from the chin and the posterior region, because the pelvic bone is more bone-deep and less bony. But the pelvic bones have a very limited application in large cases of severe bone loss requiring large bone volumes. The pelvic bone provides an abundant source of bone in the case of bone grafts.
Bone degeneration can take place in two situations: vertically or horizontally. In this study there were 24 cases of vertical bone loss and 55 cases of horizontal bone loss, a total of 3 sites were exposed and exposed grafts, two open positions in 24 positions graft vertical bone accounts for 8.3%. At the same time, one of the grafts was revealed in 55 horizontal bone grafts of 1.8%. Thus, the vertical graft is significantly higher than the horizontal graft. Longitudinal bone transplantation is more challenging than bone transplantation. Sleeveless laparoscopic techniques are extremely important to avoid cleft lip and palate failure, in the case of longitudinal bone grafts requiring more elaborate flap design than horizontal bone grafting.
Some authors suggest that bone-derived bone grafts maintain greater volume than those derived from bone cartilage [7]. Causes Due to the origin of bone, the bones have more bone mass than bone. derived from cartilage. Some authors believe that bone grafts will maintain a better volume than bone marrow transplants, regardless of cartilage origin. Factors that play a role in osteoporosis are the microstructure of the graft, the degree of vascularization at the healing stage, and local injury. The spongy bone has important functions, stimulating bone cells and differentiating bone marrow cells. Porous bone grafts are faster than those of bone grafts; however, bone grafts are harder [2].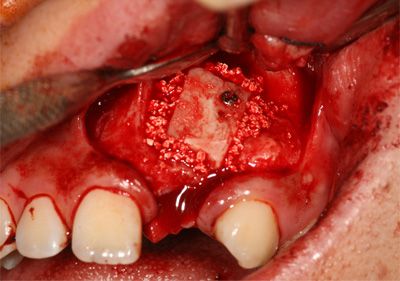 Implantation of implants in severely injured jawbone cases is a treatment procedure where the failure rate is higher than if there were sufficient bone volume. Implant failure is divided into two types: premature failure (before load) and late failure (after load). Some studies on bone grafting suggest that early failure rates are higher than late failure [4, 6]. In this study, the success rate of implant after 1 year is 100%.
Two-stroke surgical procedures and implantable stabilizers can be applied initially. Current surveys indicate that the failure rate was 5.1%. Most implant failures in the first 6 months after placement without any prosthetic treatment [3].
V / Conclusion
Using bone mass to restore the upper jaw bone is a reliable treatment. The success rate of the puzzle is 98.7%.

The success rate for implant placement on bone grafts is 100%.

Complications are numbness of the lower lip when the bones are branched and the lower jaw (this sign lasts for 6 weeks). Some cases of hypertension progress well after on-site treatment. In this study we found that bone grafting was a promising technique in the case of upper jaw bone.
References
1, Barone and Covani - Maxillary Alveolar ridge reconstruction - J Oral Maxillofac Surg 65: 2039 - 2406, 2007
2, JI Cawood and RA Rowell - A classification of the edentulous jaws. Int.J.Oral Maxillofac. Surg, 17: 232-236, 1988
3, Marius Steigmann, DDS; Maurice Salama, DDS, MS; Hom Lay Wang, DDS, MDS, PhD - Periosteal Pocket Flap for Horizontal Bone Regeneration. The International Journal of Periodontics & Restorative Dentistry Volume 32: 311-320 , Number 3, 2012
4, Petrio Felice, MD, DDS, PhD; Roberto Pistilli, MD, DDS; Giuseppe Lizio, DDS; Gerardo Pellegrino, DDS; Alessandro Nisii, MD, DDS; Claudio Marchetti, MD, DDS - Inlay versus Onlay iliac Bone Grafting in Atrophic Posterior Mandibles. Clinical Implant Dentistry and Related Research, Volume 11:69 - 81, Supppement 1, 2009
Hepatitis B, Bone Augmentation Procedures, Bone Augmentation Procedures, Bone Augmentation Procedures, Bone Augmentation Procedures, Bone Augmentation Procedures. The Oral & Maxillofacial International Journal of Implants, 24: 218-236, 2009
6, Thomas von Arx Daniel Buser - Horizont7al ridge augmentation using autogenous bone grafts block guided bone regeneration and the technique with collagen membranes. Oral Implant Clinic Res.17: 359-366, 2006
7. Lizuka T, W Smolka, Hallerman W, et al: Extensive alveolar ridge augmentation using autogenous of the split calvarial bone grafts for dental rehabitation. Clin Oral Implants Res 15: 607, 2004.

NHAN TAM DENTAL CLINIC
Address: 803-805-807-809, 3/2 Street, Ward 7, District 10, HCMC
Hotline: 1900 56 5678
Thank you for visiting www.nhakhoanhantam.com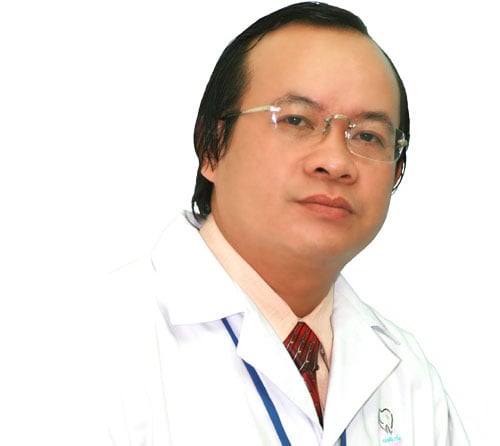 5 GOLD FACTORS br> Make the brand of Nhan Tam Dental
Consider professional ethics as the primary responsibility li>
Stay current and apply the latest dental technology li>
Experienced team of doctors and 20 years of verified clients li>
Pay attention to quality of service, ensure results li>
Customer Care & After Sales Service li>

223/5000 PLEASE COME WITH US "HEAVENLY"
801-809 3/2 Street, Ward 7, District 10, Ho Chi Minh City, Vietnam li>
Hotline: 1900 56 5678 li>
Mobile: (+84) 903 632 701 - (+84) 938 967 858 li>