The only Vietnamese doctor to be invited to report at the Les Printanières Dental Implant International Conference
Date: 31/05/2018
/
Author: Mr Hiếu
At 20h30 (in Vietnam time) on 23/3, TS. Dr. Vo Van Nhan, Director of Nhan Tam Dental Center, was honorably invited to participate in the report at the International Conference on Dental Implant Les Printanières in France.

Conference on bone grafting and sinus elevation in dental implants

TS - Dr. Vo Van Nhan participated in the report at the Conference on Science and Training teeth jaw 5th
At the conference, TS. Dr. Vo Van Nhan has reported on the topic of "Large perforation of sinus membrane patches, a new approach in the management of complications associated with the process of sinus lift, bone grafting and implants implant . This is a new breakthrough and very significant in the field of implant implants in particular and the whole dental industry in general.
It is known that lifting the sinus bone is a surgical procedure to increase the height of the jaw, to facilitate implantation and dental restoration for patients with tooth loss and severe bone loss. This is a good prognosis, but there are many potential complications, including perforation of the sinus membrane, which is the most common complication rate of 10-34%.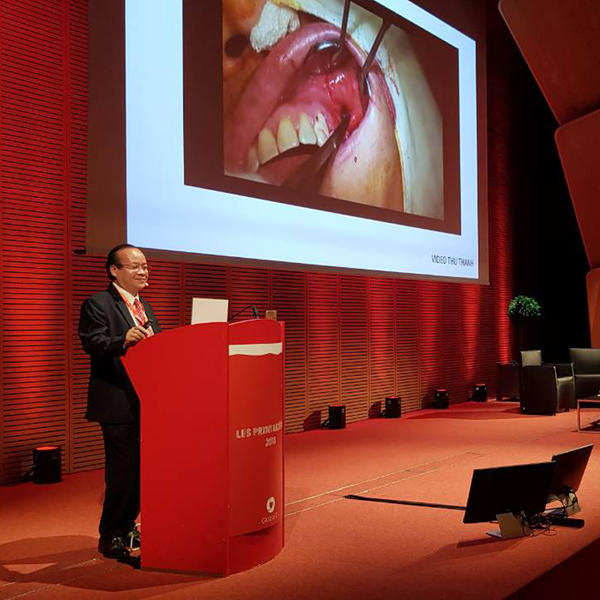 Dr. Vo Van Nhan is the only Vietnamese physician who participated in the report at the International Conference on Dental Implant Les Printanières in France.
With this report, TS. Dr. Vo Van Nhan has presented an overview of causes as well as prophylactic measures to treat sinus perforation. He paid special attention to the method of sewing the sinus membrane in the case of large holes.
The advantage of this approach is that after implantation of the implant, the implantation of the sinus, bone grafting and implantation can continue - instead of stopping the procedure and having to perform a second sinus lift procedure After 4 to 6 months, the membrane is restored. Thereby shortening the treatment time, lowering the cost of the operation, reducing the trauma and reducing pain for the patient.
Dr. Nhan's report is highly appreciated by many world-leading implant experts because of their scientific value, practical value and exciting presentation. Two experts, Carole Leconte and Philippe Roche Poggi - the scientific chair of the conference Les Printanières, said: "Nhan's subject is very novel, unique and meaningful. Besides the value of information, the presentation of the doctor is also very attractive and attractive listener.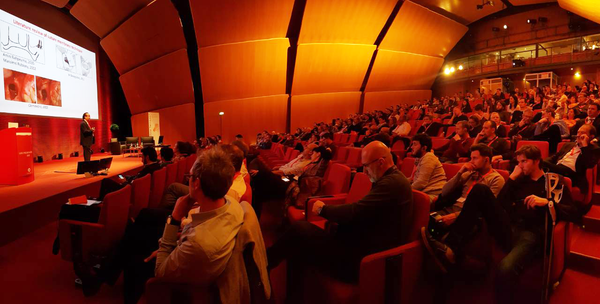 Reported by Dr. Dr. Vo Van Nhan has been highly appreciated by international implant specialists.
Share this report, TS. Dr. Vo Van Nhan said: "After each stand on the world science forum I added more confidence and not proud. Most of all, I still feel happy, energetic and that is the motivation for me to continue on the path of scientific research. "
Over 20 years in the profession, TS. Dr. Vo Van Nhan has been invited to attend the conference at many international conferences such as:
2015 (27/10 - 30/10): The first Vietnamese reporter at the ICOMS in Melbourne - Australia.
Subject: "Modified Technique of Zygomatic Implant".
2016 (31 March - 03 April): Reporter at the 23 rd Facial Surgery Conference in Hong Kong.
The subject: "Fixed restoration for patients with congenital implant dysplasia by implants implantation of upper jaw and implantation of the lower jaw to implant simultaneous implant."
2017 (06/08): Speaker at Global Symposium on Total Loss Management in Bologna - Italy.
Subject: "Moving jaw nerve and implants Implant of cheek bone in implant prosthesis".
2018 (23/03) : Invited to report at the "International Conference on Dental Implant Les Printanières" in France.

Topic: "Sewing and sinus membrane perforation was large - a new approach in the treatment of complications related to the process of sinus augmentation, bone grafting and implant".
At the same time, TS. Dr. Vo Van Nhan is also the first doctor in Vietnam to successfully implement 3 most specialized and complex implant techniques such as nerve resection technique, implants implant and cheek implants for toothless people. natural.

NHAN TAM DENTAL CLINIC
Address: 803-805-807-809, 3/2 Street, Ward 7, District 10, HCMC
Hotline: 1900 56 5678
Thank you for visiting www.nhakhoanhantam.com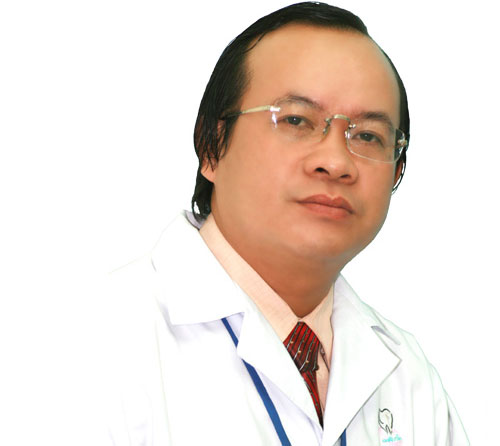 5 GOLD FACTORS br> Make the brand of Nhan Tam Dental
Consider professional ethics as the primary responsibility li>
Stay current and apply the latest dental technology li>
Experienced team of doctors and 20 years of verified clients li>
Pay attention to quality of service, ensure results li>
Customer Care & After Sales Service li>

223/5000 PLEASE COME WITH US "HEAVENLY"
801-809 3/2 Street, Ward 7, District 10, Ho Chi Minh City, Vietnam li>
Hotline: 1900 56 5678 li>
Mobile: (+84) 903 632 701 - (+84) 938 967 858 li>