The procedure for immediately implant placement at Nhan Tam Dental Clinic
Date: 31/05/2018
/
Author: Ms Trúc
Implant implants in a single operation, or implant immediately, are widely used in modern dentistry. This is a new method in the dental implant industry, but has been applied quite widely and popular. What is implant dentistry? Immediate Implant Placement Procedure at Nhat Tam Dental Clinic.

Dental implants in Nhan Tam - 5 stars

WHAT IS IMMEDIATELY IMPLANT PLACEMENT?
Understanding is the method by which the doctor exposes the tooth roots, and uses the technique of extracting the tooth trauma to not hurt the bone and gum tissue. The implant is then implanted and the bone or gum tissue inserted if needed.
Note:
- Bone grafts require an ideal condition for implant placement.
- Technique to extract the teeth to the right technical professional, not to cause bone fractures.
- Not all teeth can implant immediately (teeth with 3 or more legs, or 2 legs but too big, 4 teeth on each side two teeth, lower molar teeth) Implant can not immediately OK.
Implantation of the implant immediately requires the bone to ensure the ideal condition
Advantages of implant immediately
- Save time
- Cost savings
- The facial muscles are not affected keeping the face in balance



THE PROCEDURE FOR IMMEDIATELY IMPLANT PLACEMENT AT NHAN TAM DENTAL CLINIC
Step 1: General examination and direct consultation
This step, your doctor will collect some information about your medical history and dental history.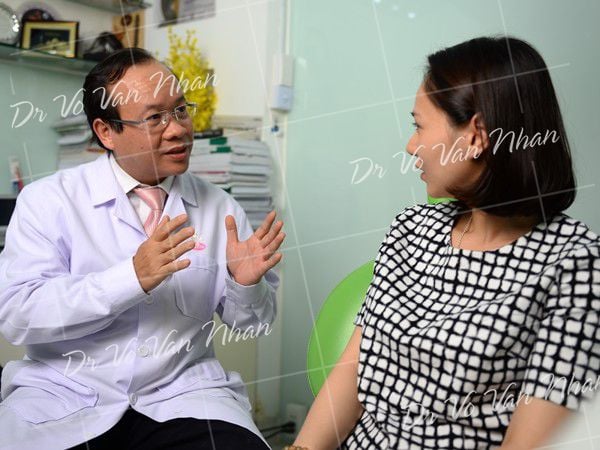 Doctors consultation and treatment before implant dental implant
Step 2: X-ray Cone Beam X-ray and Panorex Surface X-ray film
This doctor will get:
- Three-dimensional image of the jaw.
Benefit:
- Assess the quality and quantity of bone.
- Know the ideal implant placement.
- Increase the safety level with maximum accuracy in placing the implant to avoid errors when not in the right direction.
- Check the tightness of implant prosthesis.
- Shorten treatment time.
- Determine the size, length, depth and width of the jaw bone tissue that are suitable for the implant or not to plan effective treatments.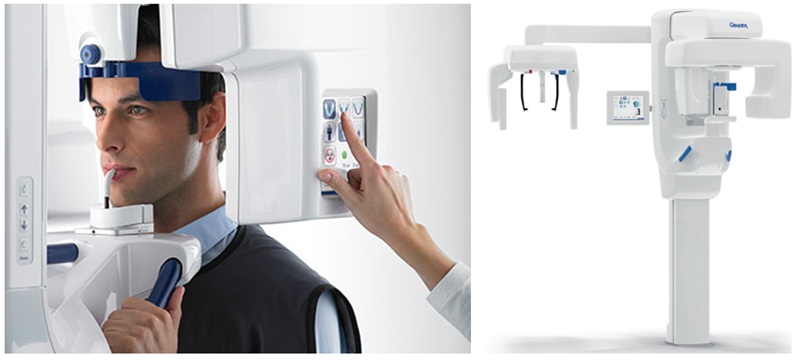 CT Cone Beam 3D delivers the most accurate results
Step 3: Image analysis and feedback
Through image analysis, physicians will identify cases in which to respond to clients.
- Full volume of bone and gums:
If enough bones and thick gums are good factors for good prognosis. Eligible Necessary to Implant.
- Lack of bone and gum volume:
Solution: In case of lack of bones or gums need to graft supplement two types of tissue to ensure that there are 2mm bone covering the implant and gum tissue at least 1.1mm thick and must have gingival rhinitis.
Bone Grafts: Until now, the patient's real bone is still the best material because it contains growth factors that heal quickly, have live bone cells, and limit the possibility of reactive excretion. In some cases, however, artificial bone can be used.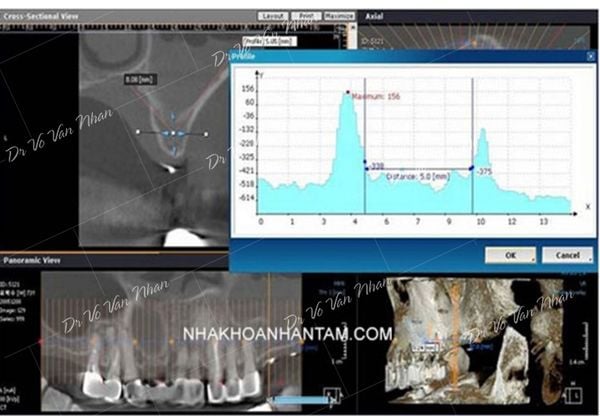 Perform quality imaging of the jaw to provide effective treatment regimens
Step 4: Get a sample of the jaw and place the implant in the ideal position for each case
Get a sample of the jaw: To get specific information about the dental condition of the customer.
Assumptions for implant placement: Bone analysis and implant placement assumptions on specialized software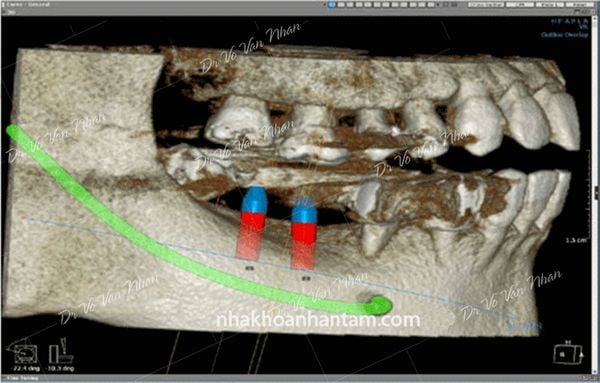 The system assumes the position of the implant cylinder
Step 5: Plan your treatment
Consultation on planting methods of implants to suit the condition of teeth, jaw and time conditions, costs of customers, as well as explain to customers related questions.
Step 6: Do not pull the tooth
First, the teeth will be loose and loose with specialized dental instruments. After that, the doctor removes the pliers from the jaw bone. This operation Doctors should pay attention to do lightly, avoid cracking or bone fractures.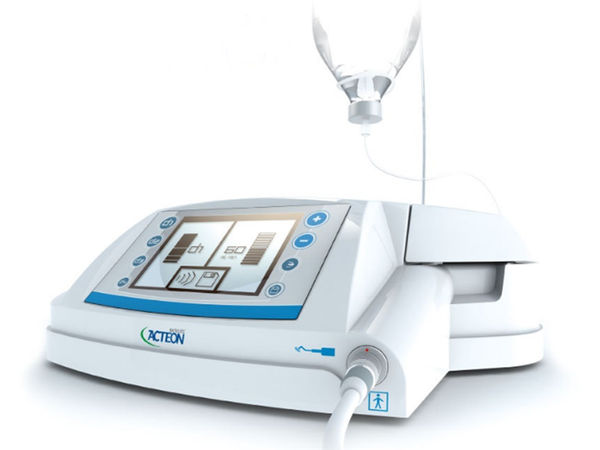 Extraction of the injured tooth with a Piezotome
Step 7: Implant Immediately

Before Implant Surgery:
- Oral hygiene, removal of plaque, inflammatory periodontal treatment if available.
- Use mouthwash that contains chlohexidine antiseptic.
- Take antibiotic prophylaxis.
When Implant Surgery:
- Anesthesia or anesthesia.
- Remove the gums and drill holes on the jaw and put the Implant cylinder.
- Dental implant to ensure dental aesthetics will stick teeth temporarily for you while waiting for dental porcelain.
After Implant Surgery:
- Continue to use mouthwash containing chlohexidine.
- Check your doctor for a follow-up visit.
- Eat soft foods while waiting for the implant to stabilize in the bone and temporary teeth.
Step 8: Make porcelain teeth
Many kinds of porcelain teeth: Currently, there are many kinds of porcelain teeth suitable for the price and aesthetics to give patients more choices.
Meet the technical requirements: As finishing lines, ribs, colors, shape of teeth.
Strict adherence to procedures: Any dental porcelain products that do not meet the requirements of quality and aesthetics will be removed and remade from the first stage.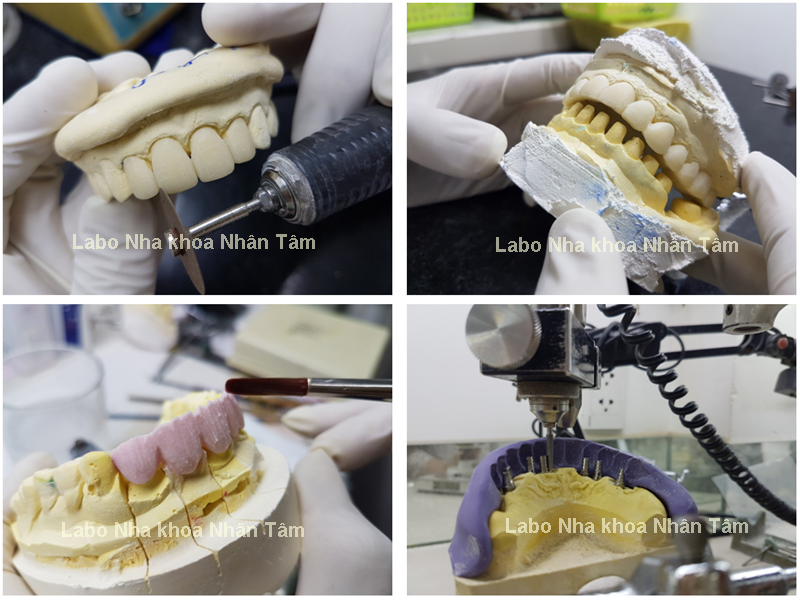 The modern Labo system at Nhat Tam Dental Clinic helps the implant dentist quickly
Step 9: Perform Implants Implant Immediately
This is the last and most important step because it is harder and more complicated than normal dental restorations. If the air will be harmful as:
- bad breath
- Gingivitis.
- If more severe conditions will cause inflammation around the implant leading to implant loss.
These are immediate implant information and implant procedures immediately after the extraction of teeth at the Dental Center. With this procedure, you can be assured of implant placement in our dental clinic.


A team of highly qualified doctors with long experience in the field of cosmetic dentistry. Doctors will not only help you restore your teeth effectively, but will also help you prevent unnecessary complications.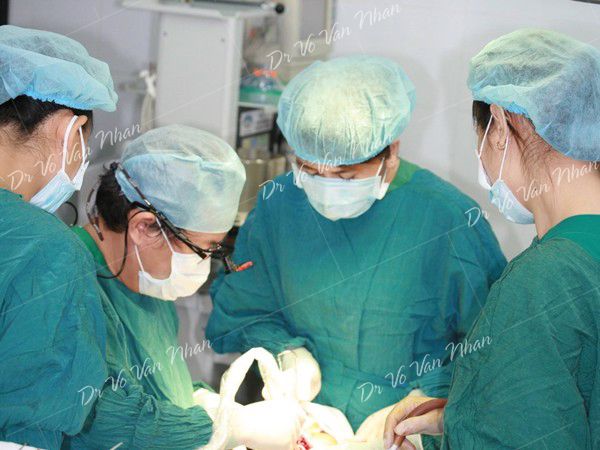 Nhan Tam Dental Clinic owns a team of highly skilled doctors

Successfully implanted with modern implants, it performs quickly, painlessly and painlessly, and provides a healthy teeth.

The implant planting process is carried out quickly, in accordance with the standards and safety required by the Ministry of Health under the support of modern equipment.

Equipped with Labo labs at the center with skilled technicians, making porcelain teeth accurately and quickly, helping patients save much time waiting and significantly reducing the cost of making porcelains.

The system of modern facilities, separate service rooms, meet sterile aseptic standards, ensuring absolute safety.

NHAN TAM DENTAL CLINIC
Address: 801-809, 3/2 Street, Ward 7, District 10, HCMC
Hotline: 1900 56 5678
Thanks for visiting www.nhakhoanhantam.com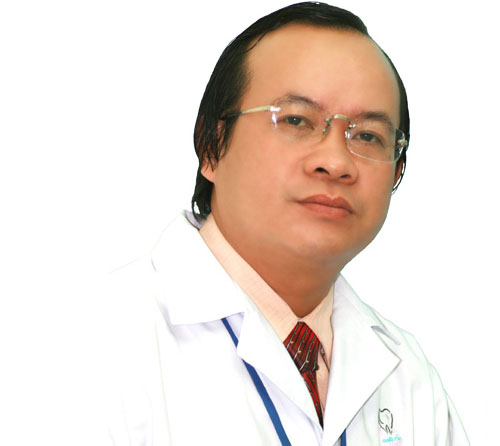 FIVE GOLDEN ELEMENTS MADE THE NHAN TAM DENTAL CLINIC BRAND
Professional ethics is the primary responsibility li>
Update and apply the latest dental technology to the treatment li>
Yearly experienced dentists team and 20 years customer's verification li>
Focus on the quality of service, ensure the results li>
The best customer care and services li>

COME WITH US TO GET YOUR HEALTHY TEETH
801-809 3/2 Street, Ward 7, District 10, Ho Chi Minh City, Vietnam li>
Hotline: 1900 56 5678 li>
Mobile: (+84) 903 632 701 - (+84) 938 967 858 li>