Return the smile to the innate
Date: 31/05/2018
/
Author: Ms Trúc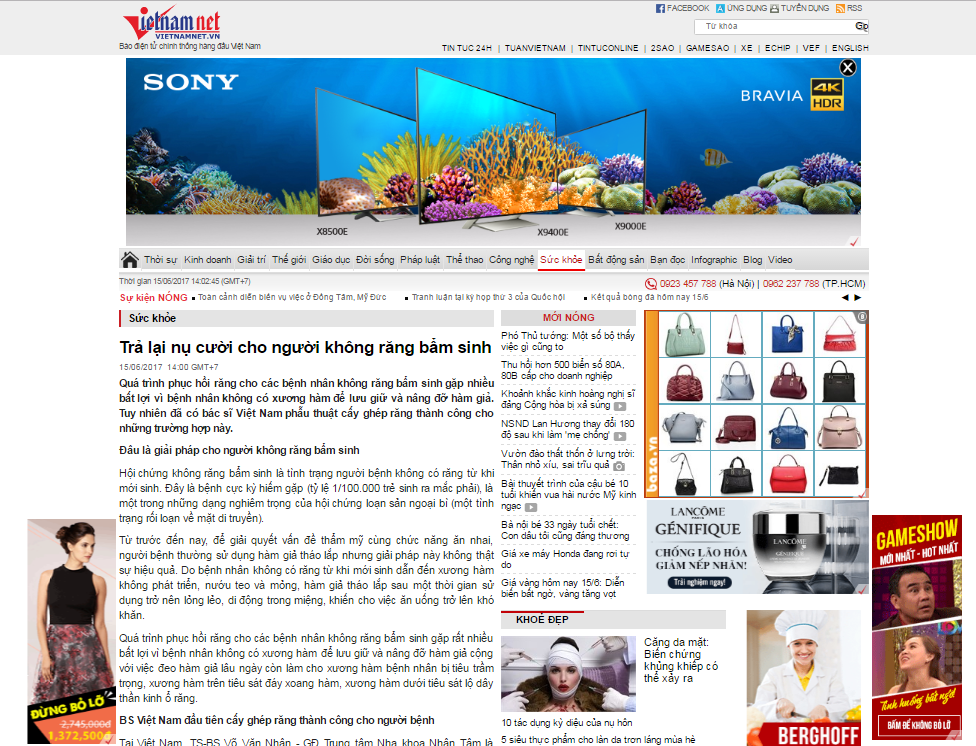 The dental restoration process for congenital implanted patients faces many disadvantages because the patient does not have the jaw to hold and support the denture.

However, there are Vietnamese doctors who have successful dental implants for these cases.

What is the solution for people with no birth defects
Congenital implantation is a condition where the patient has no teeth since birth. This is a very rare disease (1 in 100,000 births), one of the most serious forms of epithelial dysplasia (a disorder of the genitals).
So far, to solve the problem of aesthetics with chewing function, patients often use removable dentures but this solution is not really effective. Since the patient has no teeth since birth, resulting in no growth of the jawbone, the gums are thin and thin, the denture is removed after a period of use becomes loose, moving in the mouth, resulting in eating up. hard.
The dental restoration process for congenital implanted patients is very disadvantageous because patients without a jawbone maintain and support the denture, while wearing the denture for a long time. severe, upper jaw on the bottom of the sinus cavity, lower jaw bone occupying the nerve.
First Vietnamese dental implants for patients
In Vietnam, TS-BS Vo Van Nhan - Director of Nhan Tam Dental Center is the first successful dental implant for congenital implant.
The first case, made by Dr. Nhan in mid-2016, is a 30-year-old female patient with no congenital malformation, so the jaw bone does not develop. In addition to wearing a denture from a young age, the upper and lower jaw of the patient is severely impaired, so restoration with traditional dental techniques is not possible.
After examining and examining X-ray films, BS. Nhan said this is a very special case, the upper jaw of the patient to the bottom of the sinus and jaw bone under the nerve pathway.
To restore only one solution is to perform two simultaneous techniques: nerve displacement, implant implants for lower jaw restoration and implants implantation of cheekbones for restoration of maxillary teeth.
This method has the advantage of reducing the number of surgeries and the length of treatment, allowing patients to have teeth immediately after surgery. However, the simultaneous implementation of two complex techniques on the same patient is a major challenge for the physician, not only in terms of surgery, prosthetics but also in the chewing function. Beauty. So, in the world, very few doctors have successfully implemented these two techniques simultaneously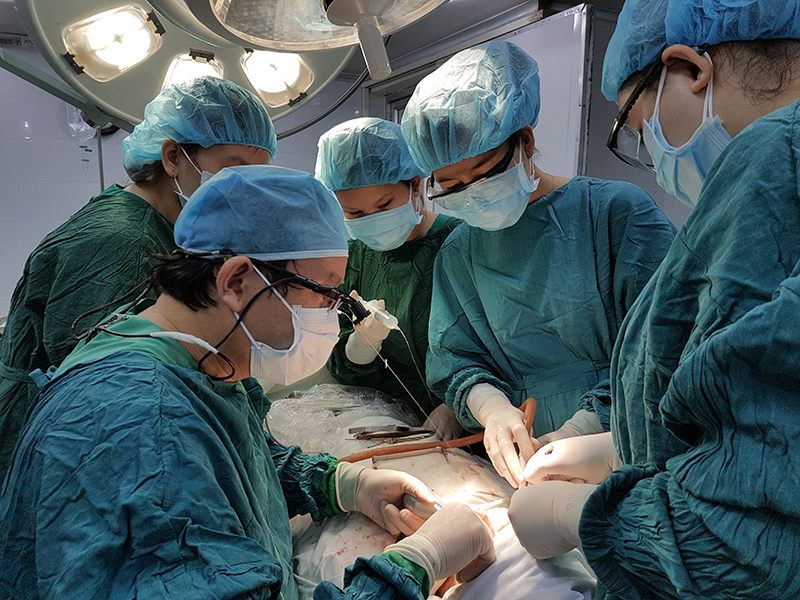 Dr. Vo Van Nhan and the surgical team
The case of congenital congenital second child was BS. Surgery in early 2017 is a 23-year-old man suffering from postpartum dysplasia syndrome. Patients with no teeth and jaw bone of patients with severe digestion, the solution using removable dentures only aesthetic and not solve the problem of eating chewing.
Through examination and evaluation, BS. Recognizing that this is also a difficult case, the prognosis to not break the nerve as well as overcome the possible complications should be studied thoroughly before deciding to apply two techniques simultaneously that is the nerve impulse, implant implants cheek bone to restore the patient's teeth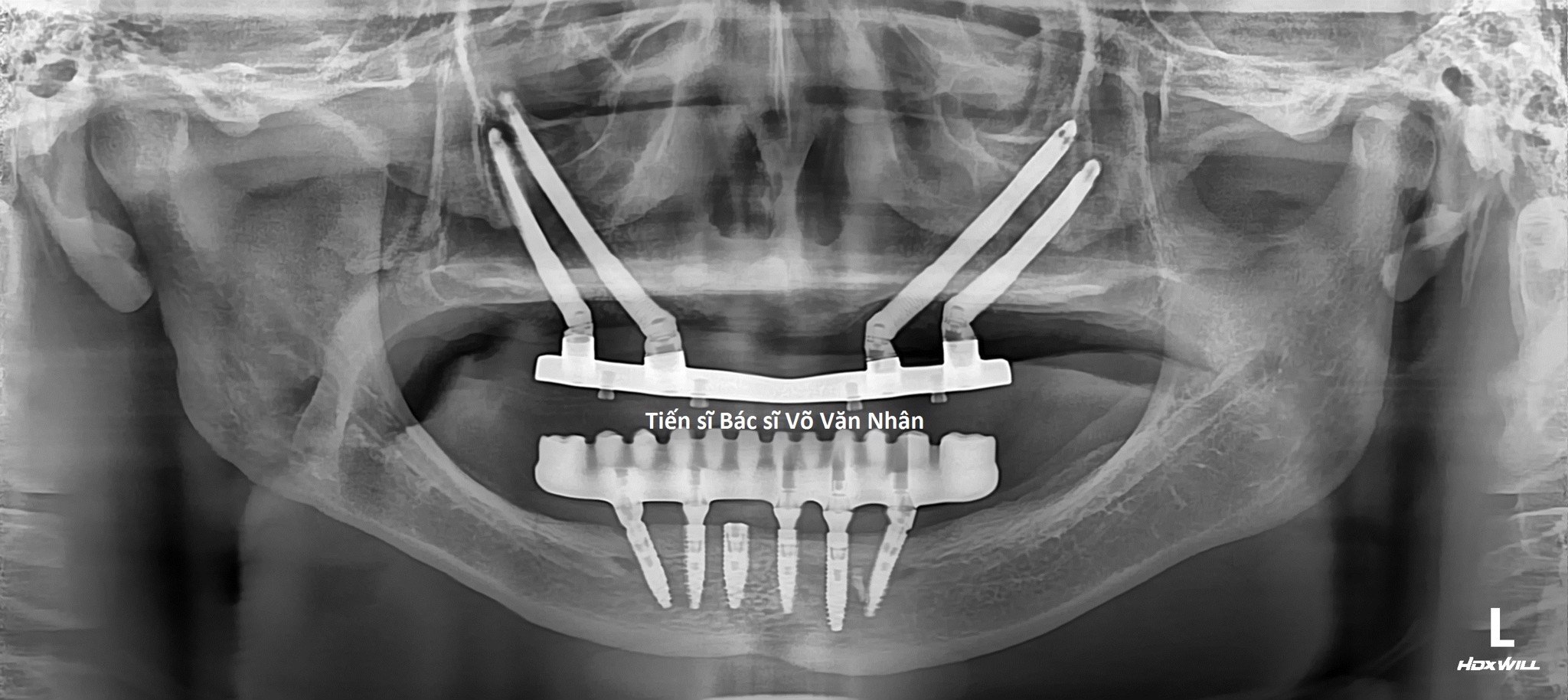 XQ implant implant of congenital implanted patient

New advancement of Vietnamese dental industry
Two complicated techniques of lower jaw nerve implant surgery and implanted cheek implant have been presented at the international dental conference held in Bologna, Italy for three days from 8 - http://nhakhoanhantam.com/2017 as well as the 23rd International Conference on Mouth and Face Surgery held in Hong Kong in April 2017. Previously, in 2015, Dr. Nhan presented advanced implant technique at the International Conference on facial and implant surgery held in Melbourne - Australia.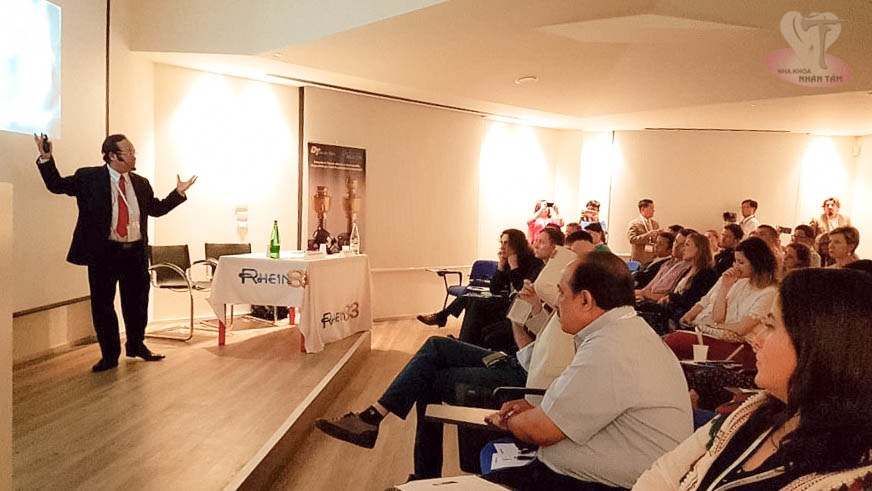 TS-BS Vo Van Nhan reported at the workshop Italy
The seminar brings together leading experts and dentists in the facial and oral health sector to share and discuss the latest achievements in the field of total tooth loss. TS-BS Vo Van Nhan is the only Vietnamese dentist reporting at this workshop. Dr. Nhan's report is highly appreciated. Experts and co-workers say that this is a great solution for congenital implant patients.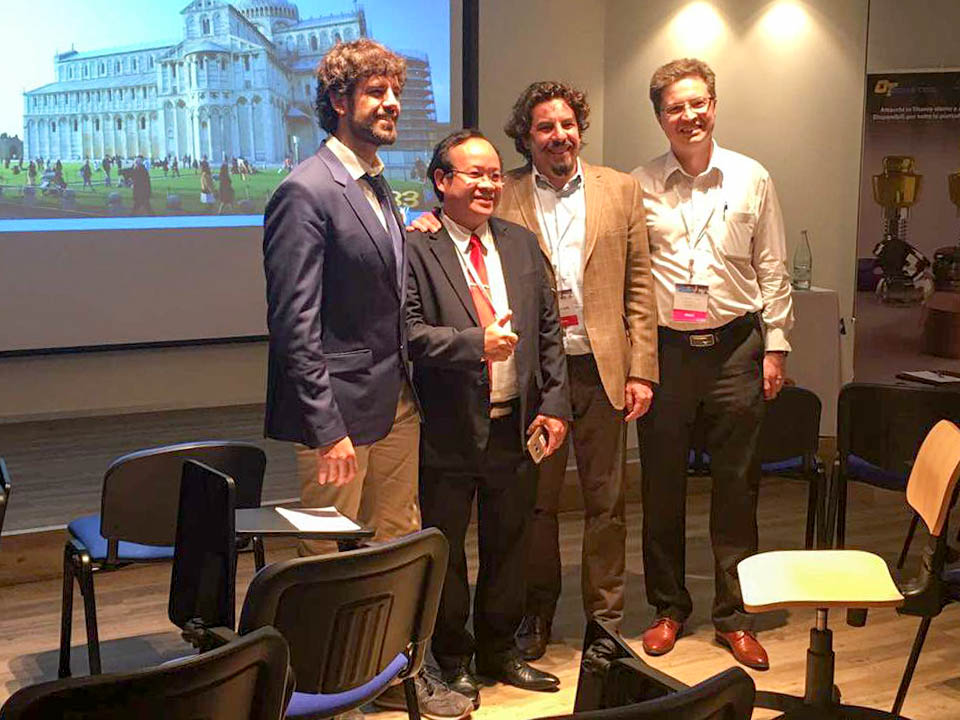 TS-BS Vo Van Nhan with his colleagues in the world
It can be said that the success of the combination of two techniques: moving the nerve and implant implants of cheek bone TS-BS Vo Van Nhan has brought great hope not only for patients Congenital heart defects, including those with tooth loss and severe bone loss, can restore functional chewing and aesthetics, enabling them to become more confident in their lives and integrate into the community.
On the other hand, success of TS-BS Vo Van Nhan also marked the new progress of the dental implant industry Vietnam in the process of accessing new achievements of the dental implant industry internationally.
See more articles at links: http: //vietnamnet.http: //nhakhoanhantam.com/suc-khoe/tra-lai-nu-cuoi-cho-nguoi-khong-rang-bam-sinh-378457.html

NHAN TAM DENTAL CLINIC
Address: 803-805-807-809, 3/2 Street, Ward 7, District 10, HCMC
Hotline: 1900.56.56.78
Thank you for visiting www.nhakhoanhantam.com
NEWSPAPERS TALK ABOUT NHAN TAM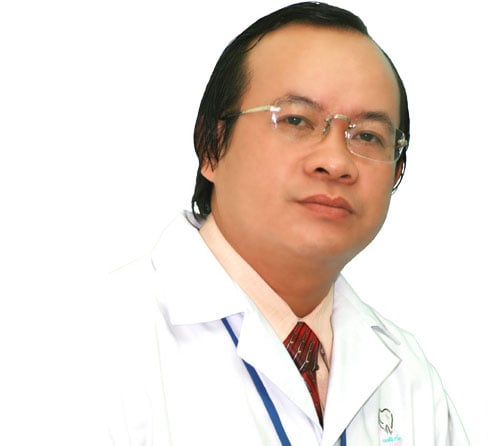 5 GOLD FACTORS br> Make the brand of Nhan Tam Dental
Consider professional ethics as the primary responsibility li>
Stay current and apply the latest dental technology li>
Experienced team of doctors and 20 years of verified clients li>
Pay attention to quality of service, ensure results li>
Customer Care & After Sales Service li>

223/5000 PLEASE COME WITH US "HEAVENLY"
803-805-807-809 3/2 Street, Ward 7, District 10, Ho Chi Minh City, Vietnam li>
Hotline: (+84) 1900 56 5678 li>
Mobile: (+84) 903 632 701 - (+84) 938 967 858 li>