What is Titanium dental porcelain?
Date: 31/05/2018
/
Author: Mr Hiếu
Titanium porcelain toothpastes are made of alloys containing 4% to 6% titanium alloy and are coated with Ceramco3 porcelain enamel.

What is precious metal porcelain?

How long does it take to make porcelain veneer?
Titanium porcelain teeth
are made of nickel - chromium - titanium alloy, then covered with a layer of porcelain enamel outside.

Titanium porcelain teeth are porcelain and moreover, crowns are not oxidized in the oral environment, nor are they affected by saliva in the mouth.

Especially for people who are allergic to metal, this is the best solution.
Who is suitable for titanium dental crowns
Some cases are suitable for titanium dental crowns - cosmetic restorations for your teeth.
- The tooth is chipped, broken or accidentally causes a fracture
- Sparse teeth, slight variation
- Yellowish teeth due to pigmentation and bleaching is not clean
- Teeth that are mild or mild in the teeth ...
These cases can be used to cover titanium teeth, help you improve the teeth are not beautiful in both shape and color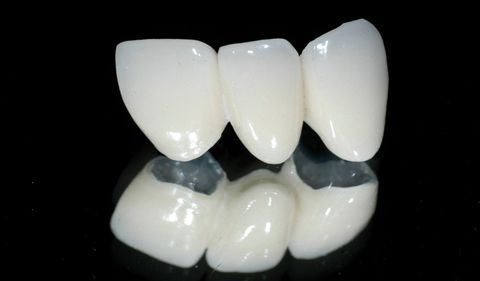 Titanium porcelain teeth have a flange made of alloy and covered with porcelain.
Advantages of Titanium dental teeth
The advantages of titanium porcelain teeth are easy to implement, the cost is not too high. In addition, titanium porcelain teeth have many other advantages as the process of teeth do not need to take too much tooth tissue, and the titanium compound makes the dental teeth become lighter, so withstand the force of compression, Patients with large pulp chamber that can not use all-ceramic teeth or allergy to other metals, the teeth titanium is the best choice. Although this type of teeth is not as aesthetically pleasing teeth, but enough to give you a beautiful smile, natural and safe for your health.
Disadvantages of dental porcelain Titan
Titanium titanium teeth are not as natural in color as porcelain teeth are the biggest drawback. Titanium porcelain after a period of use, under the action of acid and bacteria in the oral environment, causing the oxidation of the metal, darkening the gum. Due to the purity of the titanium metal is very clean, so it can improve allergy to hot and cold food, bleeding teeth, blackened gums ... Depending on the status and desire of each patient, the doctor will give appropriate advice. You should also consider the advantages and disadvantages of each type of aesthetics to choose the most suitable for you. To improve this, you need to restore your teeth. The average life expectancy of dental porcelain Titan will last from 5 to 10 years.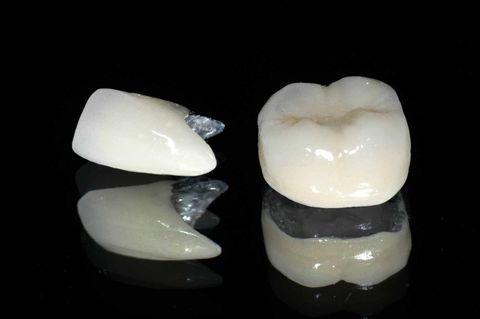 The titanium after a long period of use can lead to black gum
How much does Titanium cost?
Restorations of titanium teeth at Nhan Tam dentistry is 2,800,000 VND / tooth . In addition, all steps of making titanium dental crowns in Nhan Tam dentistry are guaranteed absolutely sterile conditions from the instruments to the dental clinic. This helps to prevent the infection, ensure the safety and bring the best aesthetic results, do not take much patient time.
On average, titanium porcelain will cost about half the price of half-toothed porcelain teeth, but consider the health and condition of each person to make the right choice.
Nhan Tam Dental Clinic is proud to be one of the trusted addresses in the customer's mind. Contact us if you have any dental problems, the team here will advise you and examine you as accurately and carefully as possible. Then, you will be scheduled and a detailed treatment plan, to bring the best possible effect, to ensure the health and aesthetics of the patient.


NHAN TAM DENTAL CLINIC
Address: 803-805-807-809, 3/2 Street, Ward 7, District 10, HCMC
Hotline: 1900 56 5678
Thank you for visiting www.nhakhoanhantam.com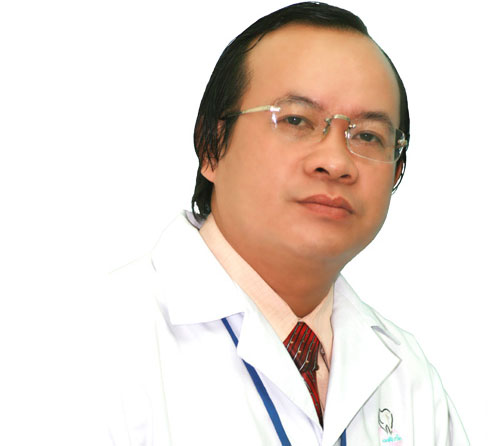 FIVE GOLDEN ELEMENTS MADE THE NHAN TAM DENTAL CLINIC BRAND
Professional ethics is the primary responsibility li>
Update and apply the latest dental technology to the treatment li>
Yearly experienced dentists team and 20 years customer's verification li>
Focus on the quality of service, ensure the results li>
The best customer care and services li>

COME WITH US TO GET YOUR HEALTHY TEETH
801-809 3/2 Street, Ward 7, District 10, Ho Chi Minh City, Vietnam li>
Hotline: 1900 56 5678 li>
Mobile: (+84) 903 632 701 - (+84) 938 967 858 li>