The consequences of jaw bone resorption
Date: 31/05/2018
/
Author: Ms Trúc
Dental implant placement is one of the greatest scientific achievements in dental history, which help restore lost teeth in both cosmetic and functional way. The most complex and difficult problem in dental implantation is severe bone loss.
Dental implants in Nhan Tam - 5 stars

Dental implants for people with missing teeth


Jawbone condition for dental implants?
Successful implant placement depends on a number of factors, of which, bone volume plays a critical role in the success of an implant. Here are the jaw bone criteria for a successful implant.

Healthy, hard, no damage and still intact jawbone.


Appropriate size, no infection at the implant zone but most patients rarely meet the jawbone requirement. These cases require bone graft procedure to ensure successful implant placement

Bone graft material and cases

Lack of bone volume and thin gum
In cases of bone or gums deficiency, these two issues must be grafted to ensure that there are 2mm of bone covering the implant and at least 1.1mm of gum thickness around the implant.
For this reason, most cases of implant placement in the cosmetic zone require the additional bone and gums graft.

Bone grafting material
So far, the patient's own bone is still the best material because it contains growth factors that can heal quickly, have live bone cells and limit reaction.
- If bone loss is severe: the grafting material must be the patient's own bone which can be taken from the chin, jaw and pelvic areas.
- If bone loss is mild: artificial materials can be used.
Consequences of the jaw bone loss (which will cause lower jaw protrusion)


Bone grafting at Nhan Tam Dental Clinic

Many years ago, with traditional techniques, when the bone resorbed, implant placement is not applicable, but with the improvement of modern technology and methods, implant placement is now possible with bone grafting.
At Nhan Tam Dental Clinic, this problem has been resolved and patients can completely have implants and not worrying about bone loss.
Especially at Nhan Tam Dental Clinic with Dr. Vo Van Nhan, a leading implant specialist who has successfully performed many world famous cases (Implementing the two most difficult implant techniques on a patient which is jaw nerve reposition and implant surgery for an anodontia patient)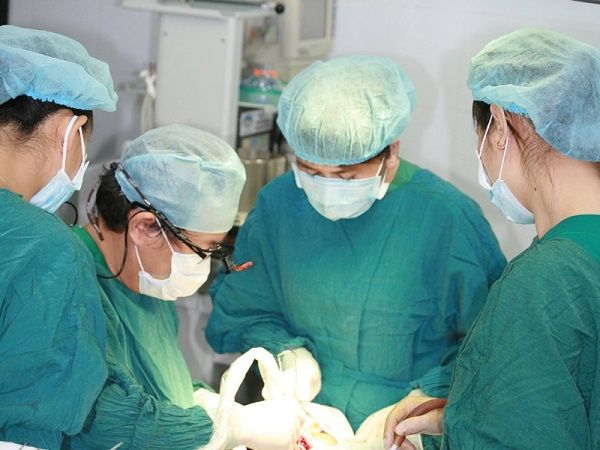 Dr. Vo Van Nhan performing an implant surgery
SOME TYPICAL IMPLANT CASES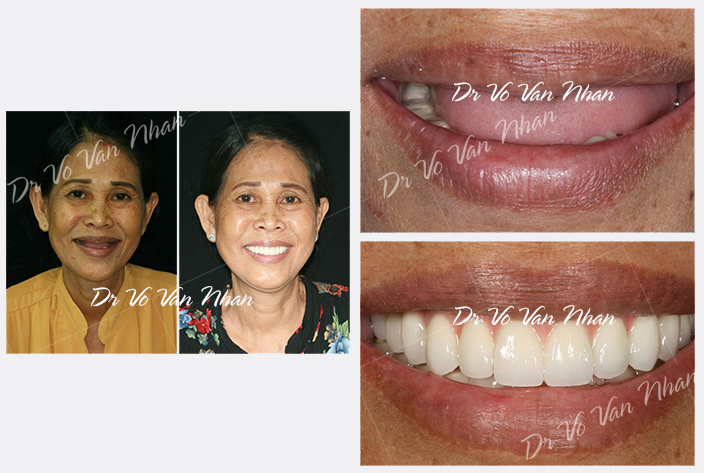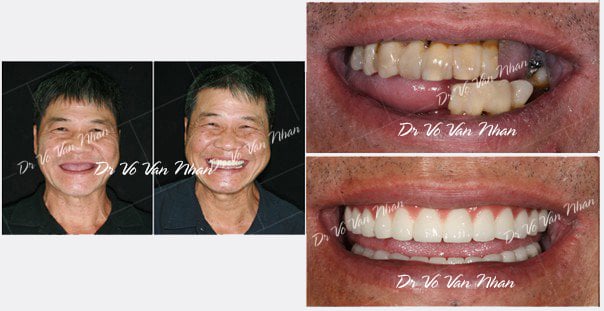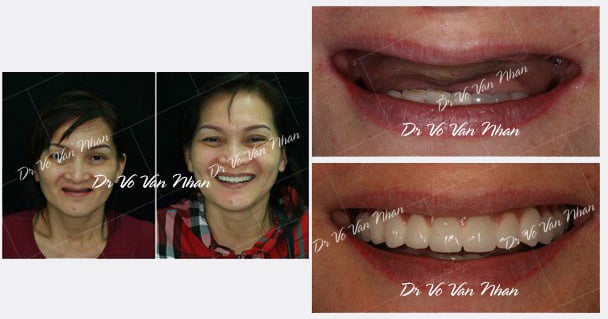 DR. VO VAN NHAN ON SAFE BONE GRAFTING IN IMPLANT
Implant placement is more complicated than conventional implants. Because, at this time, the jaw do not have enough volume as well as rigidness to support the implant to help the implant sit firmly on the jaw bone. The patient now needs to undergo alloplastic grafts or autografts surgery, the complexity will increase according to the level of the bone resorption of the patient.
The nature of bone graft is a complex and difficult technique that requires you to choose the right clinic with the following requirements:

A reputable dental clinic for implant placement
This is a relatively difficult dental technique that few dentists can perform. To ensure the safety of your own health as well as a successful implant result, you should find out and choose the most reputable implant clinic.

A team of highly skilled doctors
Bone graft procedure requires a skilled professional as well as high concentration during the surgery process.
Nhan Tam Dental Clinic with a team of skilled and experienced doctors

Quickly grow your teeth if you are missing teeth
In addition, to avoid bone loss after long-term teeth loss, Nhan Tam Dental Clinic recommends that if you have missing teeth, you should have dental implants as soon as possible to avoid alveolar bone resorption.

Always utilize and update optimized technology in dentistry
Currently, with the new implant technology, patients are able to have both bone grafts and implant placement at the same time without having to waste time waiting between procedures.
Through the information that Nhan Tam Dental Clinic shared about the problem of "The consequences of jaw bone resorption", we hope it had provided you with more information about implant placement.
---
NHAN TAM DENTAL CLINIC
Address: 801-809, 3/2 Street, Ward 7, District 10, HCMC
Hotline: 1900 56 5678
Thank you for visiting www.nhakhoanhantam.com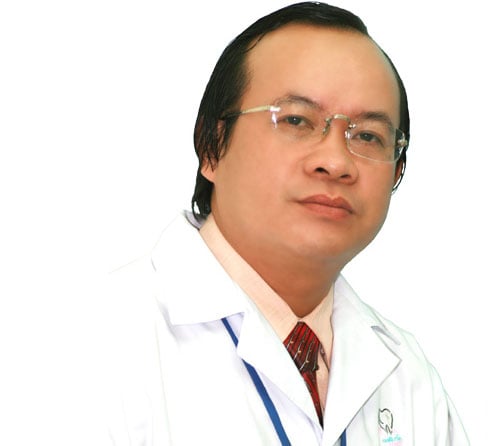 FIVE GOLDEN ELEMENTS MADE THE NHAN TAM DENTAL CLINIC BRAND
Professional ethics is the primary responsibility li>
Update and apply the latest dental technology to the treatment li>
Yearly experienced dentists team and 20 years customer's verification li>
Focus on the quality of service, ensure the results li>
The best customer care and services li>

COME WITH US TO GET YOUR HEALTHY TEETH
801-809 3/2 Street, Ward 7, District 10, Ho Chi Minh City, Vietnam li>
Hotline: 1900 56 5678 li>
Mobile: (+84) 903 632 701 - (+84) 938 967 858 li>