Dental examination, free consultation at Nhan Tam Dental Clinic
Date: 31/05/2018
/
Author: Mr Hiếu
With the mind of protection, keep smiling smile, Nhan Tam dentist always open the door to the dentist and free consultation every day. This is also a long-term bond with the patients of Nhan Tam Dental, hoping everyone will have healthy teeth, confident smile.


The best and most prestigious braces today


The process of dental pulp treatment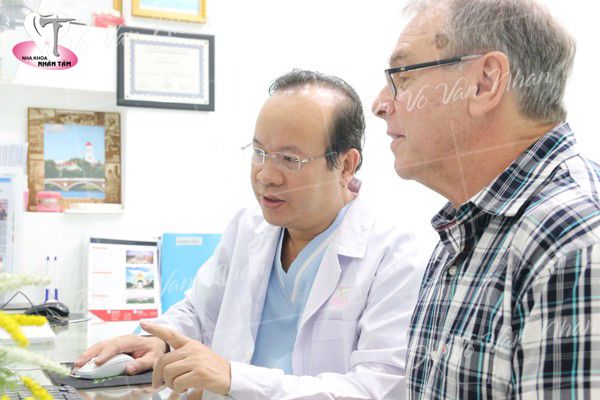 Dr. Vo Van Nhan with implant surgery implants implant
The results and methods may vary depending on the individual's physical condition
Oral health is important and affects the health of the whole body. Because it is so important because the teeth are functional chewing food, once your teeth have problems, the problem of nutrition, digestion will also be affected. Regular dental examinations and counseling will help you to spot early dental problems for timely treatment. Or, from a dental check-up, dentists will spot other issues related to overall health.
About Nhan Tam Dental Clinic
Founded in 1998, Nhan Tam Dental Clinic Ho Chi Minh City is gradually affirming its reputation in the heart of customers. With the motto "Get the heart of mind", all doctors and staffs we always desire to bring the best services, meet the needs of each patient, complete the mission to reproduce smile for millions of Vietnamese.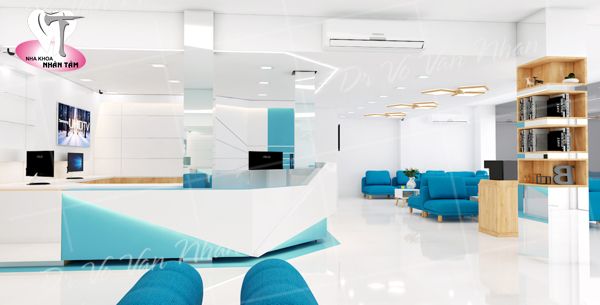 Nhan Tam Dental Clinic with modern facilities always bring comfort and satisfaction to customers
The team of doctors is trained in the techniques of dental prosthetics. Dentists, general dentists, dental smile designers also have decades of experience and devotion to the profession, constantly striving to improve their professional skills. Complete the mission to bring more beauty to everyone.
Nha Tam dentistry has completed the system of modern equipment and machinery in the field of dentistry to meet the services:
Implant Placements
Implant implants are the most advanced method today, restoring lost teeth like real teeth both functional and aesthetic. Implant Implant and the world's most advanced 3-D CT scan system are equipped and successfully applied at the Implant Center.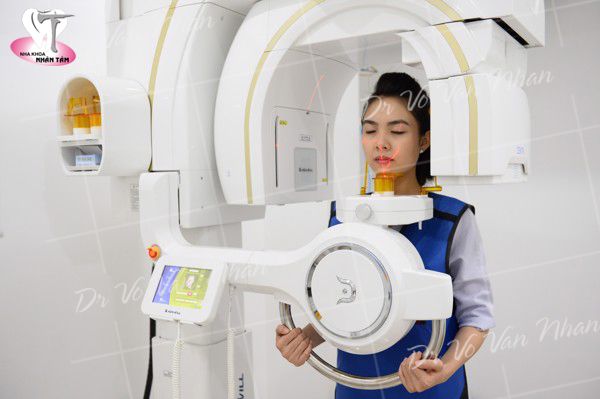 CT Cone Beam 3D Dental Mind Center
- Doctor Vo Van Nhan - Director of Nhan Tam Dental Clinic, implant experts, owners directly treatment, quality assurance treatment and long-term warranty.
- The implant procedure is always follow the standard, CT scan film before, after and implant implantation in order to achieve optimal results, absolute safety, eliminate possible errors, and also see Get results and positive changes right after implantation.
Always apply 3 modern techniques: implant implants, porcelain restorations, and shaping of gums and bones while planning comprehensive treatment.
- Equipped and coordinate the advantages of the most modern implant systems in the world such as Nobel Biocare, Straumann, Ankylos, DIO, ... suitable for each case of loss of teeth, loss of teeth for a long time and bone loss. Complex clinical situations.
In particular, Dr. Vo Van Nhan is the first Vietnamese doctor to perform complex clinical cases as follows:
1. The nerve repositioning technique in the dental implant
Patient Nguyen Van Luom (59 years old, Ho Chi Minh City) - who was removed by the surgeon to replace the teeth to say that the teeth have been made very firm, not moving, eating chewing and completely painless, especially able to eat all the foods that he loves. 40 years ago, he had broken his lower left jaw, lost all his teeth and had to wear removable dentures every year. To date, dentures are increasingly loose and portable in the mouth so it is difficult to chew.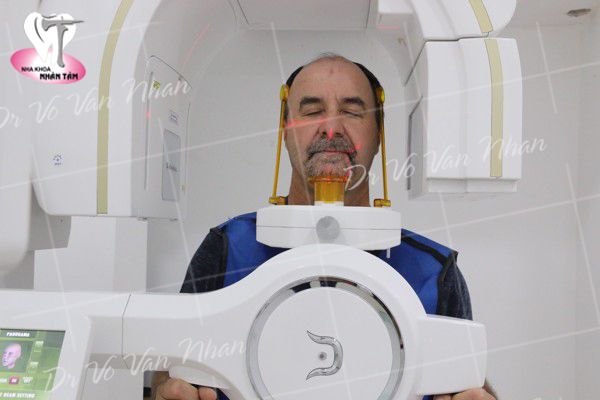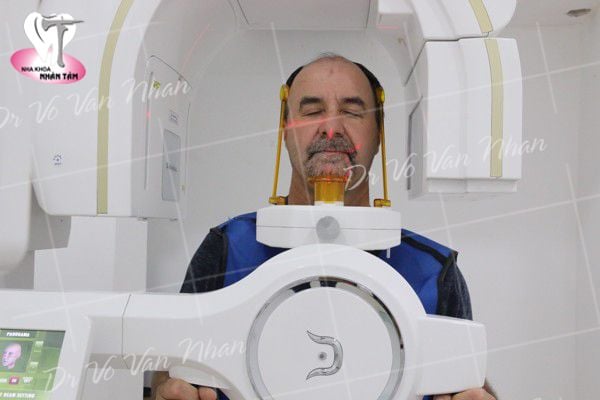 Panorex film of patients before and after implant transplantation
The results and methods may vary depending on the individual's physical condition
Neurosurgery is only available in a number of developed countries. At present, about 44 doctors have performed and published in scientific journals about the technique of moving the nerve to implant the implant.
This success will bring hope to those who suffer from tooth loss, especially in complex cases where conventional dental implants can not. This can also be considered as a new development of the dental implant industry in Vietnam.

2. Zygomatic implant for restoration of maxillary atrophy
Ngoc Linh She said: "I lost the upper molars for over 20 years, only some front teeth, but this recent front teeth become loose and have to be removed. Although the teeth are made in many places but not used because the teeth are loose, often moving in the mouth, causing pain so eating is difficult, even long porridge only. Not only that, losing all the teeth on the jaw interfere with and affect the business of trading. Bad stories with bad laugh follow me for 20 years without any way to solve it.

This is the first implant surgery in the cheek bone in Vietnam by TS-BS Vo Van Nhan (photo) performed. This success marks a new step in the field of dental implant VN and bring great hope for patients with tooth loss and bone loss on severity.
3. Dental implants for people with missing teeth
In Vietnam and around the world, there are some people who do not have small teeth (congenital) due to developmental disorders in some organs derived from foreign embryo. As a result, patients often have missing teeth, even without teeth in both upper and lower jaw, leading to bone loss in both jaws, which can not be achieved by conventional dentures.Patients with NTKH (30 years old, from Hanoi) suffer from lack of congenital teeth (no teeth since birth) so the jaw bone does not grow. Patients must wear a denture from the age of 14, causing the upper and lower jaw to drain.
After a physical examination and examination on 3-dimensional X-ray film, Dr. Vo Van Nhan said: "In the case of very special patients, the upper jaw bone is deep rubbing the bottom of sinuses, bone. lower jaw bone and exposed nerve. To solve this case, two techniques should be carried out: the removal of the nerve, the implantation of the implant to restore the lower jaw, and implantation of the implant to restore the upper teeth.
Planning a detailed walkthrough to the challenging operation, Dr. Nhan and her team spent four hours stressing to complete the surgery unexpectedly on June 3. He recovered well, had good contact and was discharged on June 4th. Currently, the patient will be fixed on the implant. The success of this first surgery has marked a new step in the dental implant industry in Vietnam.
Dental porcelain aesthetic
- Application of dental CAD / CAM technology - Automatic tooth preparation technology thanks to computer, high precision and speed. - Full ceramic teeth (no metal, metal makes gingival contour. deep black).
- Researched and monitored, no complications during and after the implementation, ceramic materials Cercon Ceramic do not cause gingivitis (good biological correlation).
- Natural porcelain veneers, ensure the function of chewing food as real teeth.

Orthodontics
Apply Orthovision orthodontic software to help prevent tooth extractions, shorten treatment time and accurately predict results after treatment.
- Orthopedic surgery combined with braces in cases of excessive choking, broken jaw or jaw angle.

Dental Labo
As one of the rare dental in Vietnam equipped with Labo in place, so when treatment at Nhan Tam Dental Clinic, treatment time will be significantly shortened compared with the place associated with Labo outside.
Nhan Tam Dental Clinic specializes in implant implants, dental aesthetics, in addition services such as aesthetic dentistry (aesthetic braces), teeth whitening, Gingival reconstruction, aesthetic gums, Wisdom tooth extraction. Conection, bone marrow transplantation, bone marrow transplantation are performed by a team of well-qualified physicians, experienced specialists and dedicated to the mission of bringing smiles to millions of Vietnamese through many years. generation. Providing best dental treatment and dental care is something that Nha Nhat Tam HCMC commits to every client.
Modern labs at Nhat Tam Dental Clinic help the process of making porcelain accurate and fast
The importance of oral health
Many studies show the correlation between oral health and overall health status. For the most part, your dental health is healthy and your overall health will be good and vice versa. If you do not take good care of your teeth, you may have problems with your heart, stomach or digestive system. Digestion begins with physical and chemical processes in the mouth. Teeth you have problems will affect chewing function and pull up digestive disorders, stomach ...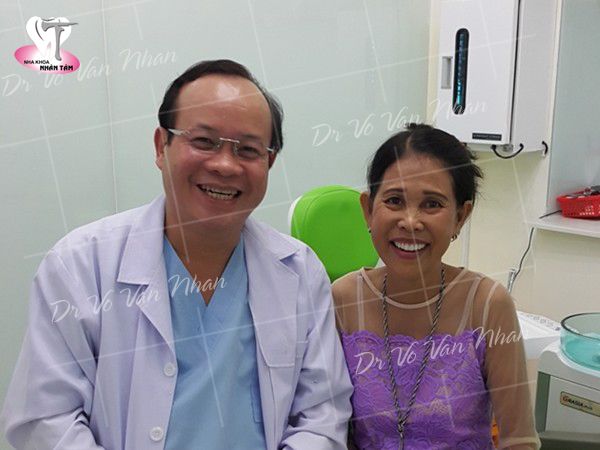 Doctor Dr Vo Van Nhan poses with Ngoc Linh patient - The first implanted cheek implant in Vietnam
The results and methods may vary depending on the individual's physical condition
Preventing oral disease
Understanding the importance of the teeth will give you a good solution to protect your teeth. The technology of dental restoration is growing, contributing greatly to the dental industry of Vietnam. However, modern dentures, however, can not afford to chew food as good as real teeth. Always emphasize the importance of cavity prevention in order to protect your unique teeth.
The best way to protect yourself is to take care of yourself at home:
Brush your teeth regularly at least 2 times a day, before going to bed and after waking up. If possible, after each meal, brush your teeth to remove leftovers.
Brush your teeth cleanly after using sugary foods.
- Rinse your mouth with salt water every day to get rid of the bacteria better.
- Get regular dental checkups to clean your teeth and find the earliest possible dental disease.
- Exercise to improve your disease prevention and regular dental appointments is the surest way to detect dental problems soon.

Where do you contact your dentist?
Free dental consultation and consultation at Nhan Tam Dental Clinic, you will be team of qualified doctors, experienced counselors dedicated, thoroughly examined to detect dental diseases. As soon as possible.


NHAN TAM DENTAL CLINIC
Address: 801-809, 3/2 Street, Ward 7, District 10, HCMC
Hotline: 1900 56 5678
Thank you for visiting www.nhakhoanhantam.com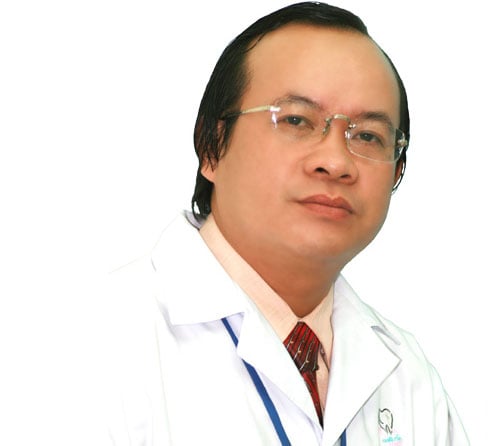 FIVE GOLDEN ELEMENTS MADE THE NHAN TAM DENTAL CLINIC BRAND
Professional ethics is the primary responsibility li>
Update and apply the latest dental technology to the treatment li>
Yearly experienced dentists team and 20 years customer's verification li>
Focus on the quality of service, ensure the results li>
The best customer care and services li>

COME WITH US TO GET YOUR HEALTHY TEETH
801-809 3/2 Street, Ward 7, District 10, Ho Chi Minh City, Vietnam li>
Hotline: 1900 56 5678 li>
Mobile: (+84) 903 632 701 - (+84) 938 967 858 li>