A new advancement in Vietnam dental industry: Zygomatic implant
Date: 31/05/2018
/
Author: Ms Trúc
After 6 months of placing implants into the zygomatic bone for teeth restoration, on the 1st June, patient Luong Ngoc Linh (57 years old, Ho Chi Minh City) returned to the Nhan Tam Dental Center to re-examine and she revealed her teeth has completely recovered as real teeth and feeling very comfortable.

This is the first implant surgery in the zygomatic bone in Vietnam performed by Vo Van Nhan DDS, PhD (photo). This success marks a new step in the field of dental implant in Vietnam and bring great hope for patients with tooth loss and severe bone loss.

End of hard time of toothless
Mrs. Ngoc Linh shared: "I lost the upper molars for over 20 years, only some front teeth remained, but this front teeth became loose recently and have to be removed. Although the denture were made in many places but could not used because the denture was loose, often moving in the mouth, causing pain so it is very difficult to eat, even in a long time I just ate soup only. Not only that, losing all the teeth on the jaw interfere and affect my business of trading. Bad stories with bad laugh follow me for 20 years without any way to solve it".
Thanks to my relative's introduction, Mrs. Linh met Dr. Nhan and was consulted a new treatment by implants into the zygomatic bone to restore the teeth.
"One day after surgery, I had a firmly fixed teeth and started to eat soft food. Up to now, after 6 months of surgery I had permanent teeth. According to Dr. Nhan, this tooth is made of modern technology from all ceramic porcelain designed and made automatically by computer so it have high precision and fixed on zyfomatic implants by screws. My teeth are not only beautiful but also as strong as real teeth, no pain, no bad breath. I feel very comfortable, confident in communication and not as miserable as before." Mrs. Linh excitedly shared.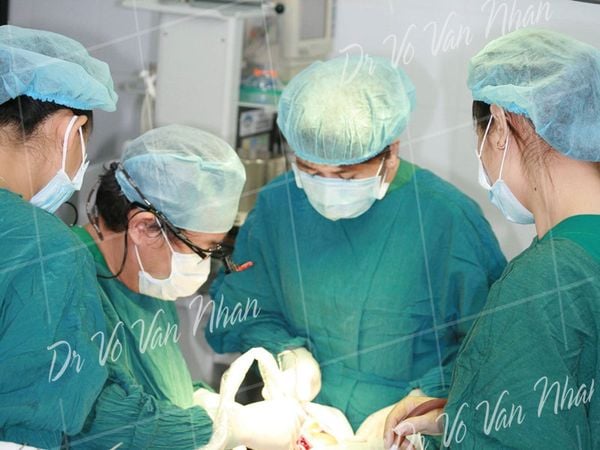 Dr. Vo Van Nhan and surgical team performed zygomatic implants

Choose the best solution for teeth restoration
Vo Van Nhan DDS, PhD revealed that: "Through examining on clinical and on the three-dimensional structure of the bone in the CT Cone Beam, I saw that the upper jaw bone of the patient had severe atrophy, especially the posterior area, the sinus come low, bone loss in both vertical and horizontal dimension, the bone remaining only a few millimeters and are of poor quality (spongy bone). This condition is very common in Vietnam because patients have lost teeth for a long time and wear removable denture for many years.
Currently, there are two treatment methods for patients who have lost all of their upper teeeth and severe maxillary bone loss.
In the case of Mrs. Linh, if following traditional method (sinus augmentation and standard implant placement), the success rate is low because the remaining bone in the sinus area is too thin, poor quality, so it's difficult to nourish the bone graft and implant that are likely to lead to failure. Therefore, to ensure better results for the patient, it should choose a new method of treatment - implants into the zygomatic (cheek bone). This is a very difficult method because the implant has a long pathway, which is close to important anatomical structures such as the sinus membrane, the infra-orbital nerve, the orbital floor ... hence requiring the doctor to have good skills, clearly understand anatomical structure and years-experienced to avoid damage these important structures. Therefore, if controling the technique will bring high success and long-term stability.
Zygomatic implants were introduced in 1998 by Proffessor Branemark. Based on this technique, Dr. Nhan has implanted two 50 mm length implants, 5 times longer than the conventional implant (10 mm), crosses many important anatomical areas from the alveolar bone through the sinus cavity to the zygomatic creating four anchor points in the cortical bone. Therefore, this implant is very strong as a determinant of long-term success. At the same time, Dr. Nhan placed four conventional implants in the front teeth and attached temporary teeth to the patient immediately after surgery. The operation was completed in 4 hours under anesthesia.
So far, Dr. Nhan has successfully performed this surgery for other two more cases. That is Ms. HNH (48 years old, Quang Ngai) and Mr. NNMinh (52 years old, Australian-Vietnamese).

The strength of the zygomatic implant
The zygomatic implant is the ultimate end-use solution for special cases such as patients with severe bone loss, failure of traditional implantation, removal of the jaw bone after cancer treatment or facial deformities.
The method also has the advantage of reducing the number of surgeries, shortening the length of hospital stay and length of treatment. At the same time, patients are allowed to have fixed temporary teeth, while in the old method, the patient must leave the tooth from 4 to 6 weeks, even longer for the removable temporary denture.

New advancements in dental implants VN
This zygomatic implant was reported by Vo Van Nhan DDS, PhD at National Conferences and received an invitation to present at the International Conference on Oral Maxillofacial Surgery in Melbourne- Australia, in October. This is the largest conference of facial surgery in the world, held every two years and gathered many famous surgeons.
X-ray imaging of 4 zygomatic implants at the posterior and 4 standard implants at the anterior.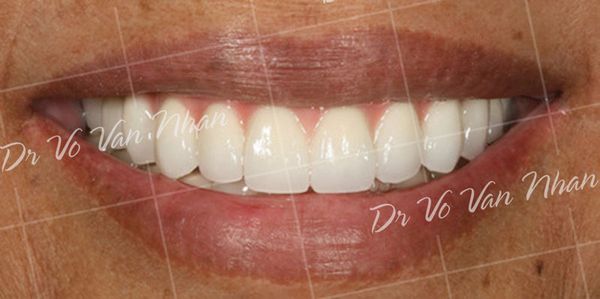 Final restoration
Prof. Dr. Le Van Son - Head of Surgery and Facial Imaging Department of Hanoi National Hospital of Odonto-Stomatology. It is known that in 2013, Vo Van Nhan DDS, PhD is also the first dentist in Vietnam successfully performed the surgery of repositioning the mandibular nerve and implant placement for dental restoration for patients Nguyen Van Luom (HCMC) - who has suffered a fracture of the lower jaw and lost teeth over 40 years. The patient fully recovered and chewed, including chewy and hard foods. He said: "I sincerely congratulate Dr. Nhan for successful zygomatic implant technique. It is believed that this technique will bring great hope to those patients suffering from severe bone loss or those who have had their upper jaw removed for a variety of reasons. For restorative and aesthetic rehabilitation of the patients mentioned above, without supportive implantation of the zygomatic, denture supported on implant can not be performed. However, this technique requires adequate equipment, skilled and experienced physicians. This is a new step in dental implants in Vietnam".
In just two years, Vo Van Nhan DDS, PhD has successfully implemented two most complicated techniques in dental implant industry. These are zygomatic implant for restoration of maxillary atrophy and surgery to reposition for implant placement to restore mandibular jaw. By mastering these two techniques, Dr. Nhan marked a new step in the field of dental implant in Vietnam, contributing to improve the effectiveness of rehabilitation and aesthetics for patients with The complex and detrimental clinical conditions that conventional dental implantation techniques fail to address. To date, Vo Van Nhan DDS, PhD was the first person in Vietnam successfully implement the two complex techniques mentioned above.

Good news for those who do not have teeth congenitally
In Vietnam and around the world, there are some people who do not have teeth from newborn (congenitally) due to developmental disorders in some organs derived from foreign embryo. As a result, patients often have missing teeth, even no teeth in both upper and lower jaw, leading to bone loss in both jaws, which can not be achieved by conventional dentures.
At present, the world has the optimal solution to treat these special cases. It is a combination method of zygomatic implant to restore the upper teeth and reposition mandibular nerve to implant for lower teeth. In Vietnam, these two specialized techniques have been successfully implemented by Dr. Vo Van Nhan, which will bring opportunities and hope for those patients who have congenital missing teeth to restore their function of chewing and aesthetics., improve quality of life, confidence in communication and community integration.
Posted in Thanh Nien Newspaper: More here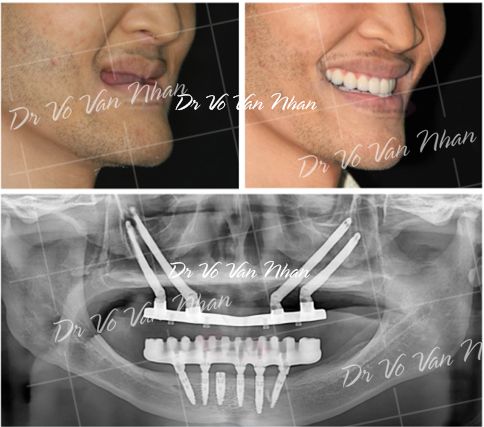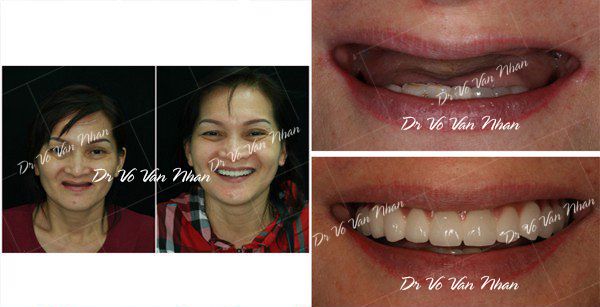 NHAN TAM DENTAL CLINIC
Address: 801-809, 3/2 Street, Ward 7, District 10, HCMC
Hotline: 1900 56 5678
Thank you for visiting www.nhakhoanhantam.com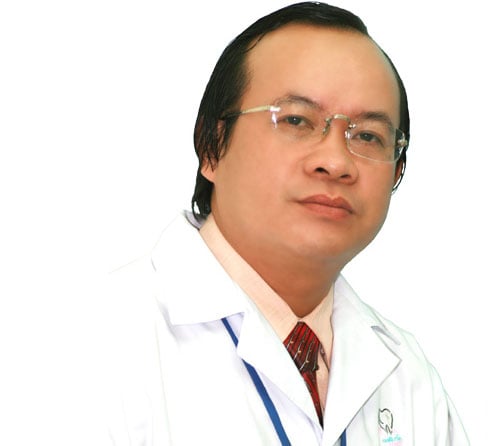 FIVE GOLDEN ELEMENTS MADE THE NHAN TAM DENTAL CLINIC BRAND
Professional ethics is the primary responsibility li>
Update and apply the latest dental technology to the treatment li>
Yearly experienced dentists team and 20 years customer's verification li>
Focus on the quality of service, ensure the results li>
The best customer care and services li>

COME WITH US TO GET YOUR HEALTHY TEETH
801-809 3/2 Street, Ward 7, District 10, Ho Chi Minh City, Vietnam li>
Hotline: 1900 56 5678 li>
Mobile: (+84) 903 632 701 - (+84) 938 967 858 li>