Dental tourism: Do not loose at home
Date: 31/05/2018
/
Author: Ms Trúc


Dental tourism is a new product, unique, highlight to attract tourists to Vietnam
Mr Bui Ta Hoang Vu, Director of Ho Chi Minh City Tourism Department, said that dental tourism is one of the five key products of HCM City health tourism, which will become the brand and strength for the tourism industry to promote. out of the world.


DENTAL MEDICINE VIETNAM
Dentists said many years, dental tourism has attracted many visitors from developed countries such as Australia, United States, Britain, France ... to Vietnam dental treatment combined holiday travel nourish There are also a large number of overseas Vietnamese and domestic visitors from other provinces and cities that have just joined together as a tourist. According to the statistics of Ho Chi Minh City Dental Hospital, the examination and treatment of foreigners increased significantly in recent years. In 2014, only about 300 people visited the hospital, and last year it was up to 1,000.
Dr. Do Dinh Hung also said that the cost of making teeth in Vietnam is 2-3 times cheaper than that of other countries in the region and the world. A foreigner who travels and carries out dental treatment in Vietnam only costs the same as the cost of dental work in other countries. Moreover, the team of Vietnamese dentists are skilled, skillful hands, experienced and technical process ... so can compete with the world.
Dr. Nguyen Duc Minh, director of Ho Chi Minh City Hospital for Dentistry, added that for international integration in the field of dentistry, the hospital set up a modern operating room, establishing a dental tourism club specializing in translation. cosmetic surgery, dental care for tourists. At present, the level of doctors as well as dental equipment and technology in Vietnam is on par with other countries in the region. This is a great advantage for the dental industry of Vietnam. Therefore, early development of dental tourism because if not in the soon to be the dentist in the area will go to Vietnam practice, then the Vietnamese dentists will lose white at home.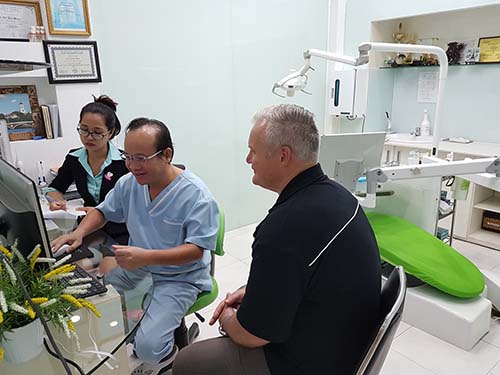 Dr. Vo Van Nhan is dental consultant for foreigners Photo: nguyễn trang


ACHIEVEMENT DETAIL VIETNAM
Reported at the 2017 Tourism Dental Tourism, Dr Vo Van Nhan is proud that in recent years thanks to digital application in dentistry, using CT Cone Bean system and CAD / CAM system (design and automatic tooth preparation with the help of computers) that doctors save a lot of time. If you follow the traditional classical techniques, plant a tooth must go through 8 complex stages. Now it's only 3 steps left so it is possible to make a porcelain sample within an hour instead of it in the past 2 days. Digital dentistry meets patient expectations: ensuring treatment time, shortening time, high accuracy, high prognosis, no transmission from one place to another, rapid repair, disease Comfortable, can be easily combined to make teeth and travel. As a result, patients are returning to Vietnam more and more.
With smile design software, the patient's confidence in the patient increases as he or she is able to see all the future prospects of his or her teeth after treatment. Dr. Nhan is the first physician in Vietnam to combine 2 in-depth techniques: lower jaw nerve surgery implants implants implants Congenital innate. Only 4 doctors in the world have performed this surgery and have published in specialized scientific journals. This is considered to be the highest peak in dentistry for implants for congenital implanted patients or patients with severe bone defects that are restored to their chewing function and aesthetics, enabling them to integrate confidently into the community. Besides,


POTENTIAL POTENTIAL PERFORMANCE
In order for dental tourism to thrive, the health sector needs the linkage of the tourism industry to promote and bring the product closer to the traveler. Cao Pham Hang, Director of Vietjetours Tourism Company, analyzes: Countries like Thailand and Singapore have closely linked tourism and dentistry to organizing and designing tours for tourists in the meantime. appointments. Vietnam has not organized such tours that most are spontaneous. In fact, many years, visitors from the US, Australia through Vietjetours to Vietnam dental work a lot, even replanting teeth at only 1/3 US. I think we do not need visitors back, but they just come back to the country promoting dental services of Vietnam to introduce relatives to Vietnam to make teeth that we have already succeeded. However, Due to the fact that Vietnamese dentists do not advertise properly, they can not reach customers directly. I just note that the nature of travel is to be cheerful so to serve tourists, the dentist should change the appearance to look fun, vivid and develop painless dentistry.
Mr. Tu Quy Thanh, Director of the Federal Tourism Company, also suggested that the dental industry should have specific products with address and price clear, the new tourism can be on the tour program. . The dental industry should also have certificates, insurance to more accessible to foreigners. We have a lot of potential then quickly make it into reality, but if the foot is lost foreign dentists will take the opportunity!
Mr. Bui Ta Hoang Vu, Director of Tourism Department of Ho Chi Minh City:


SHOULD have a TOURIST ASSOCIATION
We should have the Travel Dental Association to increase linkage, resolve incidents, legal protection when needed. Which rooms are eligible for high quality, friendly with tourists, reasonable price ..., the tourism industry will put on tourist map to introduce not only in but also abroad when the tourism industry to attend the fair. international. We should aim to establish a regional modern Dental Center with 300 rooms to export the brand of dental tourism in Vietnam.
See more articles at links: http://thitruong.nld.com.vn/du-lich/nha-khoa-du-lich-dung-de-thua-tren-san-nha-201706281821263.htm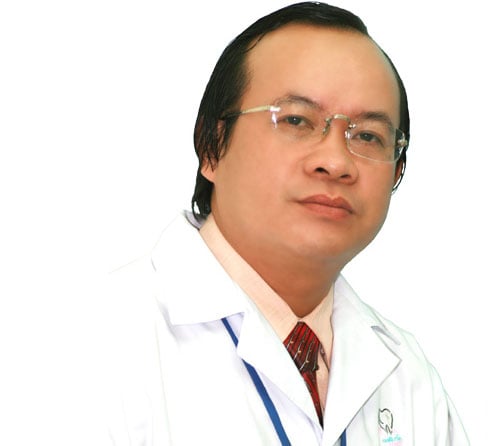 FIVE GOLDEN ELEMENTS MADE THE NHAN TAM DENTAL CLINIC BRAND
Professional ethics is the primary responsibility li>
Update and apply the latest dental technology to the treatment li>
Yearly experienced dentists team and 20 years customer's verification li>
Focus on the quality of service, ensure the results li>
The best customer care and services li>

COME WITH US TO GET YOUR HEALTHY TEETH
801-809 3/2 Street, Ward 7, District 10, Ho Chi Minh City, Vietnam li>
Hotline: 1900 56 5678 li>
Mobile: (+84) 903 632 701 - (+84) 938 967 858 li>