Doctor Vo Van Nhan - who bring the Vietnam dental to reach the world
Date: 31/05/2018
/
Author: Ms Trúc
Over 20 years of continuous study, research and research, TS.BS. Vo Van Nhan has become the "golden hand" of the dental implant industry of Vietnam.
Dr. Vo Van Nhan is visiting patients at Nhan Tam Dental Clinic
He dedicates himself to the field, giving his life to the heart and the diligence in creative work, the synergy between wisdom and passion, contributing to bringing Vietnam's dentistry to new heights.
Coming to Nhan Tam Dental Center in the last days of the year, we are not surprised because many customers are waiting. There are people who come first time, and also someone who has been "familiar" for dozens of years ago.
Although guests are crowded, waiting for a long time is new, but everyone is comfortable, satisfied. And perhaps the most impressive thing about them is that the doctor is friendly, witty and funny, always smile, although very busy to see and consult with each patient. . Dr. Vo Van Nhan, director of Nhan Tam Dental Center.
"Thanks to Dr. Nhan, I am suffering from toothache"
The same wait as many other customers, but LNLinh (59, HCMC) do not have the need to make beautiful teeth to welcome the new year. Talking to us, Ms. L. confidently smiled and said: "This is a beautiful tooth, so there is no need to do anything else." She came to thank Dr. Nhan, thanks to the doctor that I no longer have to. I have no teeth anymore.
Linh said she lost all of her teeth in the upper jaw for 20 years, with only a few door teeth, but then they were shaken and have to be removed. Although he has done dentures in many places, but she still can not use because the teeth are loose, often moving in the mouth, causing pain so eating is difficult. Due to aesthetic deprivation, she is also very shy to communicate with others and affect the business. "Bad stories and jokes follow her for 20 years without any solution," Linh recalls.
Then refer a relative, Ms. Linh was Dr. BDS Vo Van Nhan to consult and consult the treatment by implant implants into the cheek bone to restore the teeth. Due to the complexity of the jaw bone, it can not be treated in a conventional manner.
"Unbelievably, just one day after the surgery, she had a firm permanent teeth and started to eat soft food. Just like real teeth, no pain or worry about bad breath. She felt very comfortable, confident in communication, not as miserable as before, "she Linh excitedly shared.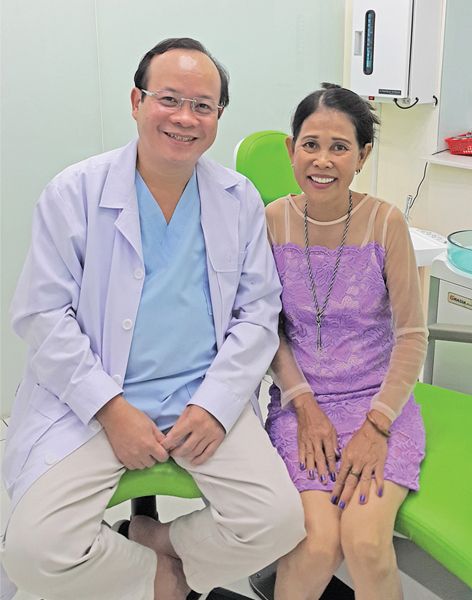 Ms. Linh's smile with Dr. Vo Van Nhan
Bringing Vietnam Dental Implant to reach the world
Dr. Vo Van Nhan is the first Vietnamese doctor to successfully implement complex techniques in the field of dental implant surgery such as neurosurgery, implants, cheek bone implant, replanting teeth for people without teeth. natural...
In 2008, TS.BS. Nhan has received some patients mouth lip openings. These are very special cases because of lack of bones, lack of gums and nasal passages, so food often flows from the mouth through the nose causing difficulty in eating. This prompted the doctor to conduct a study to restore the bone, implant the implants and grow the teeth for these patients.
After 4 years of research, the project has been successful, not only restored functional function but also bring a normal appearance, helping patients to integrate into new life. The topic is humanistic and is honored to be published in the world leading scientific journal on craniofacial surgery of the United States.
Then, in 2013, Dr. Nhan was the first person in Vietnam to successfully perform nerve root surgery and implants for re-implantation of patients with NVL (HCMC) Mullet fractures causing loss of teeth over 40 years. Currently, the patient has fully recovered and is eating well, including hard and hard foods.
The most remarkable achievement has marked the development of the implant of Vietnam is the dental implant for patients with congenital implant by the implementation of two complex techniques, which is the removal of the spirit Surgical and implantation of cheek bone implants for L patients (25 years) in January 2017. This work has been invited to report at the international facial surgery conference in Australia, receiving high praise from the world. specialize. This is a very rare and rare surgery, according to the world literature, currently only four doctors accompany these two complex techniques on patients with congenital implant.
"After the surgery had new teeth, I felt the deliciousness, sweetness of food, and had the feeling of love and craving.Today, I no longer feel guilty in front of the crowd and can confidently pursue passion, love, work, "L. share.
It can be said that Dr. Bs Nhan has brought great hope to patients with congenital tooth disease, the bone loss on the severity. At the same time, he also marked a new step in the field of dental implants in Vietnam, contributing to improve the effectiveness of treatment, rehabilitation and chewing aesthetics for patients with complex clinical conditions. The classic toothplanting techniques do not work.
With his silent dedication to the industry, Nhan Nhan, like the "bird wing", is not tired of searching for and conquering new sources of knowledge. He is not only a good doctor, dedicated to the patient, dedicated to the profession but also a devoted teacher, enthusiastic about the work, always sharing precious experiences with young colleagues.
Prof. Dr. Vo Van Nhan at the international conference - in Italy 2017
More articles at links: https://tuoitre.vn/tien-si-bac-si-vo-van-nhan-nguoi-dua-implant-nha-khoa-viet-nam-vuon-tam-the-gioi -20180127141025488.htm


NHAN TAM DENTAL CLINIC
Address: 803-805-807-809, 3/2 Street, Ward 7, District 10, HCMC
Hotline: 1900.56.56.78
Thank you for visiting www.nhakhoanhantam.com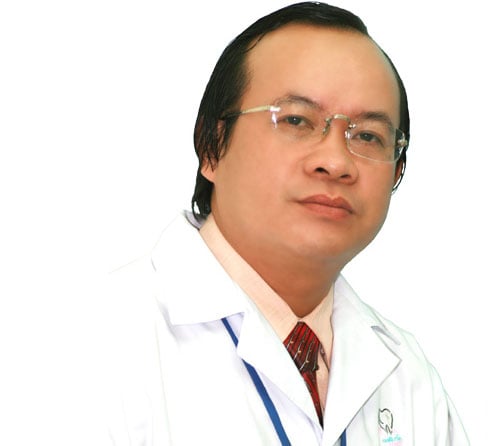 FIVE GOLDEN ELEMENTS MADE THE NHAN TAM DENTAL CLINIC BRAND
Professional ethics is the primary responsibility li>
Update and apply the latest dental technology to the treatment li>
Yearly experienced dentists team and 20 years customer's verification li>
Focus on the quality of service, ensure the results li>
The best customer care and services li>

COME WITH US TO GET YOUR HEALTHY TEETH
801-809 3/2 Street, Ward 7, District 10, Ho Chi Minh City, Vietnam li>
Hotline: 1900 56 5678 li>
Mobile: (+84) 903 632 701 - (+84) 938 967 858 li>