Hundreds of Royal University students choose Vietnam for internship
Date: 31/05/2018
/
Author: Ms Trúc
Every year, dental students at King's College London - one of the oldest and most prestigious schools in the UK have come to Vietnam under the guidance of Dr. Vo Van Nhan.
It is known that this is the third consecutive year students of King's College of dentistry to study in Dental Center.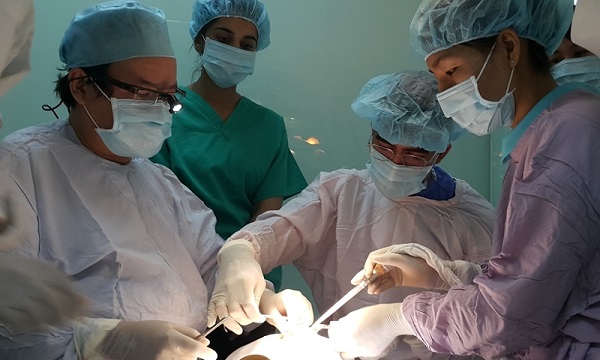 Priyam Patel is performing a procedure in implant surgery under the guidance of Dr. Dr. Vo Van Nhan in August/2016.
To complete the academic program and become a dentist at the Royal College of England, students must choose a reputable hospital or dental center in the world to practice their anesthesia. realistic and clinical experience. For 3 consecutive years, Nhan Tam Dental Center - Vietnam has received dental students from King's College London to study.
"The older siblings came and made very good comments when they were studying in Dentistry. So, we came here to learn about the work of a dentist, especially implant-intensive techniques under the direct guidance of Dr. Dr. Vo Van Nhan - who particularly attracted me. Through the clinical cases that he successfully treated, "said Priyam Patel, a male student at King's College.
In this practical program, Dr. Dr. Vo Van Nhan , Director of Nhan Tam Dental Center, directly instructs and facilitates students of King's College London to observe procedures in surgery and to approach Clinical transplant implant complex: 3-dimensional bone graft surgery, surgical sinus lift and sinus membrane patch implant simultaneous implant.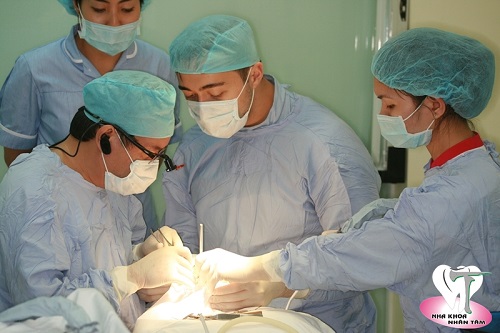 "We rarely have the opportunity to directly observe such complex surgeries while attending school until I'm practicing here. And we have gained a great experience when participating in the surgical implants implant under the guidance of Dr. Dr. Vo Van Nhan. Nhat Tam Dental Clinic - Vietnam is the right choice and we will advise the students of the next course to come here to gain valuable experience as we have received, "Priyam students in the course of shared learning.
"We do not think we are lucky to see such surgeries directly, and our questions are answered scientifically and with great care by Dr. Nhan," said Bhavina Bhudia. .
Besides having a chance to study in Vietnam, students also have a chance to experience the culture and tourism. "We love the country, the culture and the people of Vietnam very friendly. Next week, after the end of this class we will visit the Cu Chi tunnels and some historic sites as well as tourism in Hoi An, "Priyam and Bhavina shared.
Implant Center Implants Nhat Tam Implants implant and aesthetic smile design. It restores the chewing and aesthetic function of complex tooth loss due to lack of bone and severe gum depletion, including dental restoration for patients with cleft palate and patients with congenital deformities ( no teeth from childhood to adulthood); to improve quality of life, help patients confident in communication and integration into the community.


NHAN TAM DENTAL CLINIC
Address: 803-805-807-809, 3/2 Street, Ward 7, District 10, HCMC
Hotline: 1900.56.56.78
Thank you for visiting www.nhakhoanhantam.com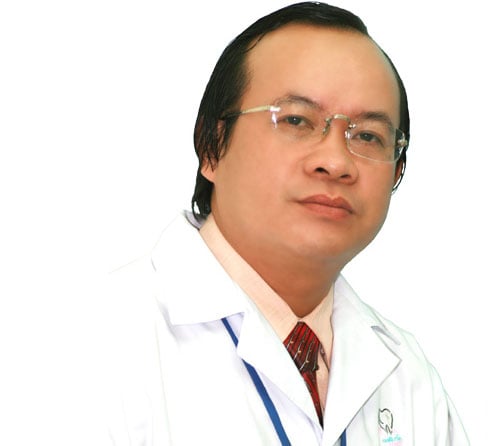 FIVE GOLDEN ELEMENTS MADE THE NHAN TAM DENTAL CLINIC BRAND
Professional ethics is the primary responsibility li>
Update and apply the latest dental technology to the treatment li>
Yearly experienced dentists team and 20 years customer's verification li>
Focus on the quality of service, ensure the results li>
The best customer care and services li>

COME WITH US TO GET YOUR HEALTHY TEETH
801-809 3/2 Street, Ward 7, District 10, Ho Chi Minh City, Vietnam li>
Hotline: 1900 56 5678 li>
Mobile: (+84) 903 632 701 - (+84) 938 967 858 li>