The "golden hand" Vietnamese dental industry shared the solution to develop dental tourism
Date: 31/05/2018
/
Author: Ms Trúc
At the conference on the development of dental tourism in the end of June 2017, Dr.B. Vo Van Nhan - Director of Dental Tam Tam made the conference "wake up" welcome when presented on the topic "Shoulder Game of Digital in Dental Tourism. Dr. Vo Van Nhan's lecture has left a deep impression on people, because it shows the level, competency and competitive advantage of Vietnam's dental industry in attracting patients in the country. Travel through the road.

Dental implants for people with missing teeth

Return the smile to the innate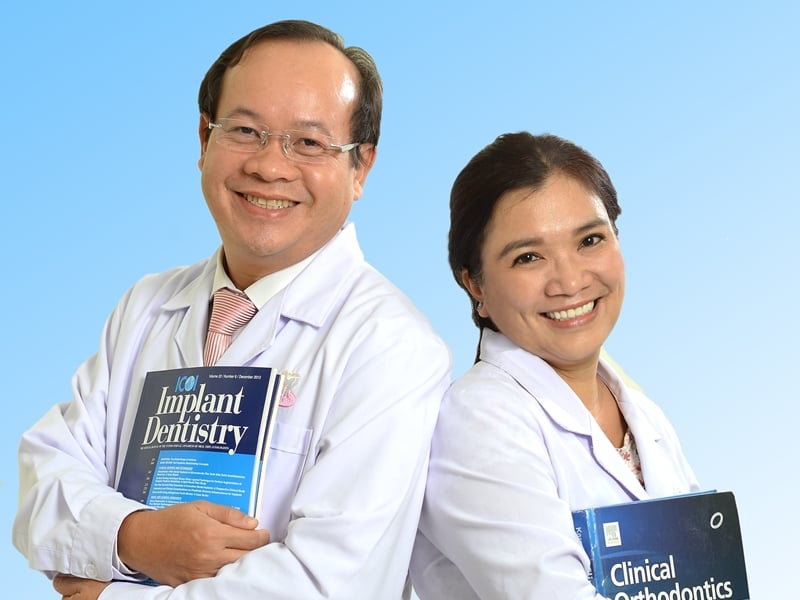 Prof. Dr. Vo Van Nhan (Director of Nhan Tam Dental Clinic) and Dr. Tran Thi Nga
The "golden hand" of the dental industry of Vietnam
Dr. Vo Van Nhan graduated with a distinguished faculty of Dentistry in 1997, a resident doctor in 2001, defended his PhD thesis in 2014. The distinctive mark of the "golden hand" of dentistry Vietnam's Faculty, which is respected by the society that he has successfully implemented a series of difficult clinics.
With 20 years of experience, he is now the first in Vietnam to successfully implement 3 most specialized and complex implant techniques: nerve displacement technique, implants implant and cheek implants for people. no innate teeth. In addition, Dr. Nhan is also a pioneer in complex dental implantation techniques for the treatment of severe bone loss in clinical settings such as 3D bone grafting, implant implants in patients with cleft lip and palate; Sew the sinus membrane is punctured big ...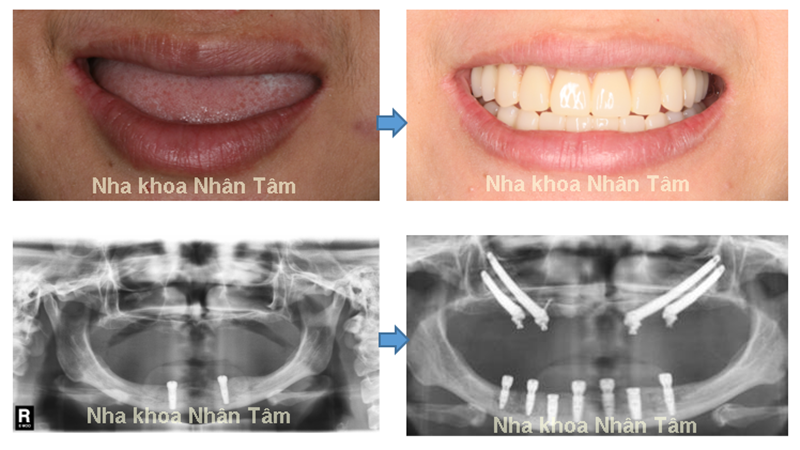 Pictures of a surgery by Dr. Vo Van Nhan
In particular, in 2016 for the first time he successfully performed parallel surgery to remove the nerve and implants implanted cheekbones to grow teeth for congenital people in Vietnam. This is the first clinical surgeries in Vietnam to successfully recover for those less fortunate due to dysplasia of the epidermis resulting in lack of or absence of congenital teeth. Only 4 doctors in the world have performed this surgery and have published in specialized scientific journals.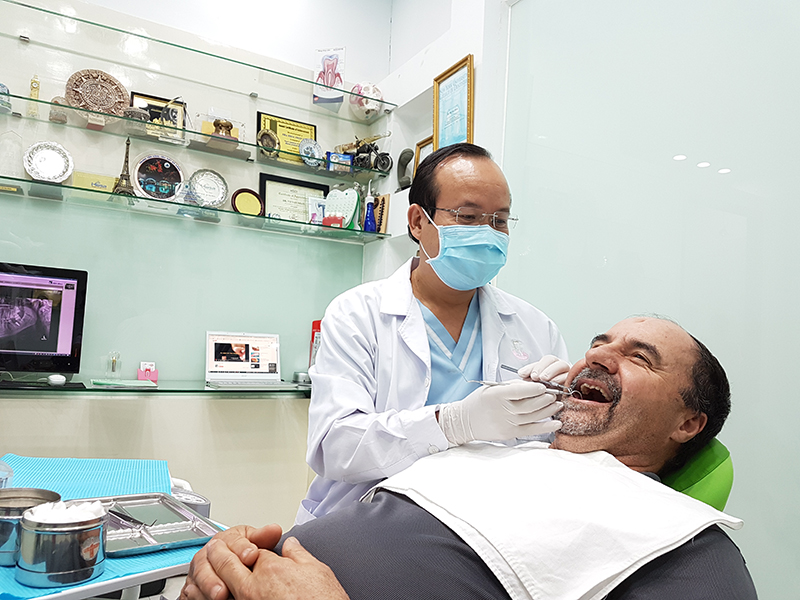 Doctor Vo Van Nhan is treating foreigners
The success of dental implant surgery for infertile people creates a breakthrough in the dental implant industry in Vietnam on a par with those of developed countries. At the same time, opportunities and hope for patients with no congenital teeth are restored to their chewing and aesthetic functions, improving quality of life, confidence in communication and community integration.
In addition, successful implant transplantation in patients with cleft lip and palate (cleft palate) has also been reported by the international dental community. With this topic and technology, Dr. B.Bo Vo Van Nhan has continued to affirm the talented surplus when successful implementation, bringing joy to more than 50 patients with cleft palate.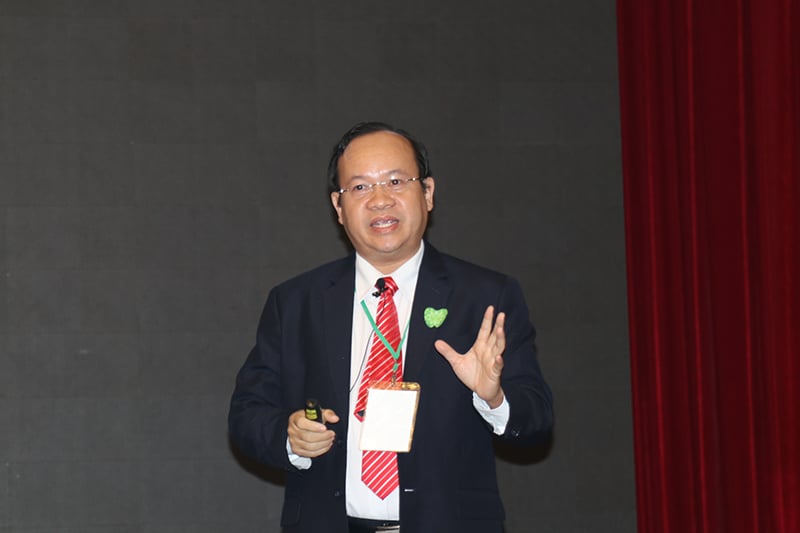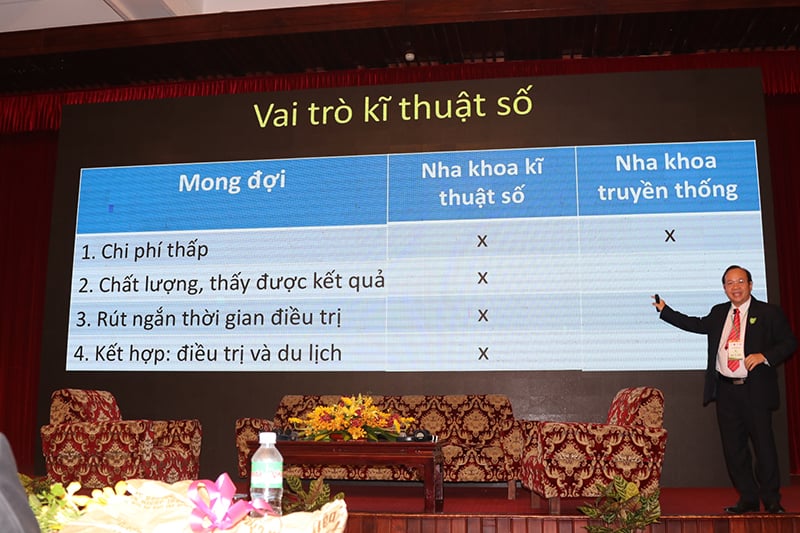 Doctor, Doctor Vo Van Nhan reports on the role of digital in dental treatment
In addition, Dr. Vo Van Nhan is also the first doctor in Vietnam to successfully apply the technology of dental porcelain making by computer - CAD / CAM technology with the topic: "Introduction of CAD / CAM Dentistry in Vitro for recovery of type II sinusitis. "- Master thesis - Doctorate in 2002. The subject won the consolation prize at the conference of young scientists and medical schools. the 17th.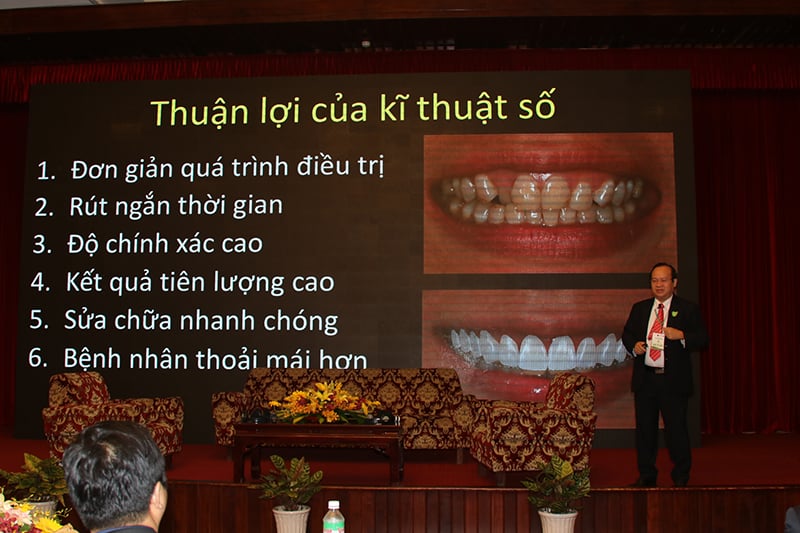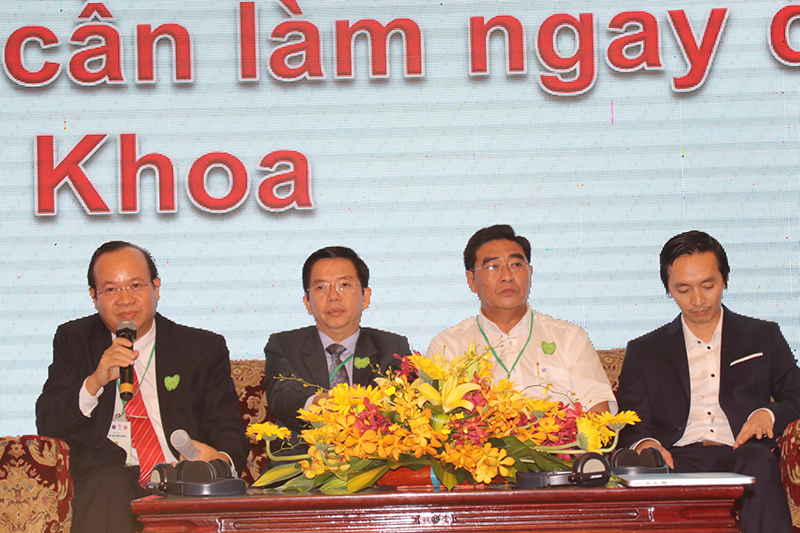 Doctor, Doctor Vo Van Nhan and dental conferences in the country and internationally
Dr. Vo Van Nhan has been honored by many reputable dental organizations in the world to present at the conference on Implant. At the same time, he is also the leading universities training implant in Vietnam: University of Medicine and Pharmacy in Ho Chi Minh City, Hanoi University of Medicine and Pharmacy, Hong Bang University, Ho Chi Minh City Dental Hospital ... invited to teach to Communicate your valuable knowledge and skills to the trainees. He is also a member of the International Congress of Oral Implantologists (ICOI) - USA, ITI (International Team for Implantology) - Switzerland.
These shared to turn the potential into a reality Dental Tourism development
Reported at the 2017 Dental Tourism Festival, TS-BS Vo Van Nhan is proud that, in recent years thanks to digital application in dentistry, using CT Cone Bean system and CAD / CAM system design and manufacture of automatic teeth with the help of computer). With smile design software, the patient's confidence in the patient increases as he or she is able to see all the future prospects of his or her teeth after treatment. At the same time, doctors save a lot of time. If you follow the traditional classical techniques, plant a tooth must go through 8 complex stages. Now it's only 3 steps left so it is possible to make a porcelain sample within an hour instead of it in the past 2 days. Digital dentistry meets the expectations of the patient: ensuring treatment time, shortening time, high accuracy, high prognosis, not spread from one place to another, quick repairs, patients more comfortable, can be easily combined to make teeth and travel. As a result, patients are returning to Vietnam more and more.
According to TS.B.S Vo Van Nhan, so that Dental tourism can flourish, the medical sector needs the association of tourism to promote, bringing products to tourists. Countries like Thailand and Singapore have closely linked tourism and dentistry to organizing and designing tours for the duration of their appointments. Vietnam is not organized such tours that most are spontaneous visitors in the form of visitors themselves to the dentistry, effective treatment, then introduce themselves to other travelers. Or, the dentists themselves, promoting separately to find foreign customers.
According to the experience of the countries with dental tourism development, the dentistry in the country will associate with tourism companies with offices network, partners operating in foreign countries Win Win way (both mutually beneficial). The network of travel companies will be the place to introduce, consult and bring other travelers to the dental center. This is the shortest, but most effective, strategy for the development of dental tourism.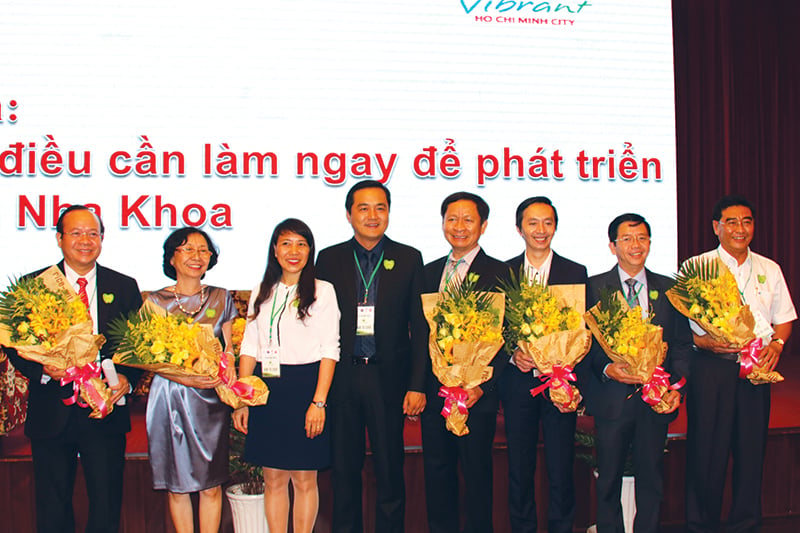 Dr. Vo Van Nhan received flowers with the Organizing Committee
And dentists introduced in tourism programs must build facilities, teams and procedures to ensure that standards of quality of treatment are met by a number of institutions. About international dental certification. It is possible that the global accreditation body is the better, or at least the appraiser of the host country, where it wishes to exploit its tourist resources. These certifications are the basis of beliefs and conditions necessary to win international guests, step by step bringing Vietnam's international dental integration.
In conclusion, in order to develop dental tourism potential, it is necessary that state management agencies of the tourism and health sectors cooperate to orient, promote and promote implementation. Medical tourism must target both domestic and foreign tourists. At the same time, the core issue is the combination of dental treatment facilities, between dental treatment facilities and tour operators. The research offers dental tourism products of international standard, ensuring patient safety, reasonable price to enhance the development of the dental industry to create a competitive position with other countries in the region and international.
Source: http://thuonghieuquocgiaonline.vn


NHAN TAM DENTAL CLINIC
Address: 803-805-807-809, 3/2 Street, Ward 7, District 10, HCMC
Hotline: 1900 56 5678
Thank you for visiting www.nhakhoanhantam.com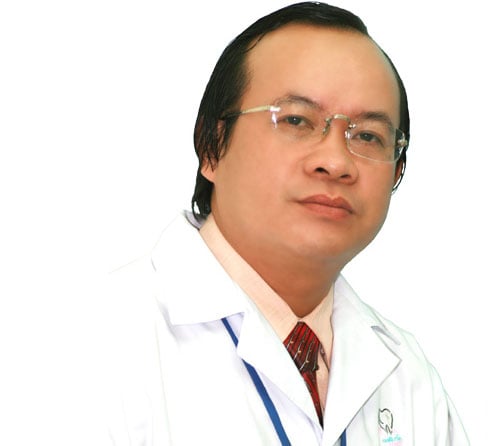 FIVE GOLDEN ELEMENTS MADE THE NHAN TAM DENTAL CLINIC BRAND
Professional ethics is the primary responsibility li>
Update and apply the latest dental technology to the treatment li>
Yearly experienced dentists team and 20 years customer's verification li>
Focus on the quality of service, ensure the results li>
The best customer care and services li>

COME WITH US TO GET YOUR HEALTHY TEETH
801-809 3/2 Street, Ward 7, District 10, Ho Chi Minh City, Vietnam li>
Hotline: 1900 56 5678 li>
Mobile: (+84) 903 632 701 - (+84) 938 967 858 li>