Zygomatic surgery for the woman with 30 years of wearing removable denture
Date: 31/05/2018
/
Author: Ms Trúc
Miss Nhat Tam - Missing teeth, jaw bone does not grow, she wears dentures for a while, the bone infection and tooth loss gradually.

Pick up hundreds of objects in the patient's sinus cavity extracted

Find solutions to develop dental tourism in Ho Chi Minh City
From Hanoi to Ho Chi Minh City to find a doctor after the treatment of many places, the 30-year-old woman said that since childhood had a lack of congenital teeth should be 14 years old to wear dentures. Over time, the jaw bone becomes infected and the teeth begin to fall off. Gradually, the upper jaw and lower jaw are destroyed causing her difficulty in eating, communication and many barriers in work.
Dr. Vo Van Nhan said that this is a very special case that he received. The results of clinical examinations and examinations on three-dimensional X-ray film showed that the upper jaw bone was crushed deep at the sinus cavity bottom, the lower jaw bone was broken and revealed nerve. In order to solve this case, only one possible solution is to perform two techniques, namely, the removal of the nerve, the implantation of the implant to restore the lower jaw, and implantation of the implant to restore the upper jaw.
According to Nhan, one of the two techniques was a difficult one. Combining these two techniques on the same patient, the level of difficulty and challenges increased several times in terms of surgery, prosthetics, chewing and aesthetics. There are very few places in the world where both techniques are successful.
Planning a detailed walkthrough to the challenging operation, Dr. Nhan and her team spent four hours stressing to complete the surgery unexpectedly on June 3. He recovered well, had good contact and was discharged on June 4th. Estimated to one week after swelling and swelling reduction, patients will be fixed teeth fixed on the implant. The success of this first surgery has marked a new step in the dental implant industry in Vietnam.
According to Dr. Nhan, implant transplantation is only performed when the patient is an adult, usually over 18 years of age. Patients should be monitored closely for comprehensive, long-term treatment strategies before and after recovery by this method.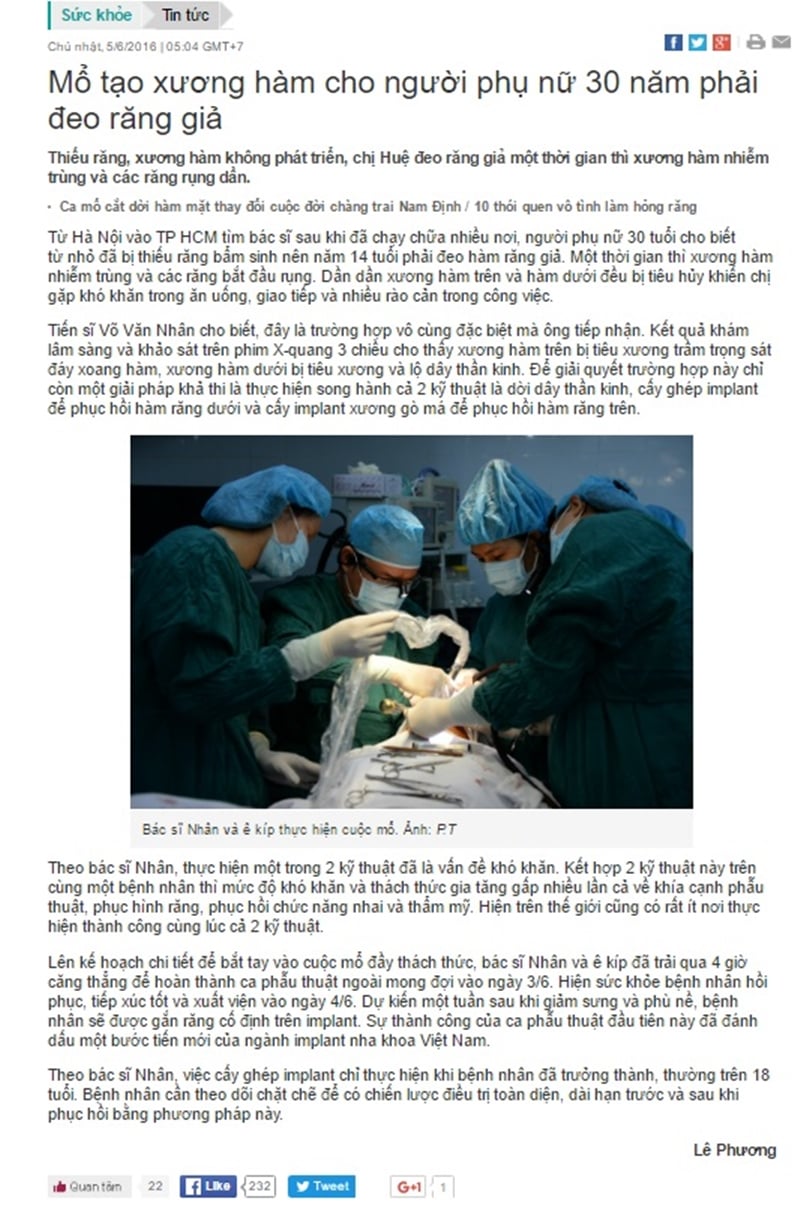 View the link on Vnexpress here: Operation of the jaw bone for 30 years women have to wear dentures


NHAN TAM DENTAL CLINIC
Address: 803-805-807-809, 3/2 Street, Ward 7, District 10, HCMC
Hotline: 1900 56 5678
Thank you for visiting www.nhakhoanhantam.com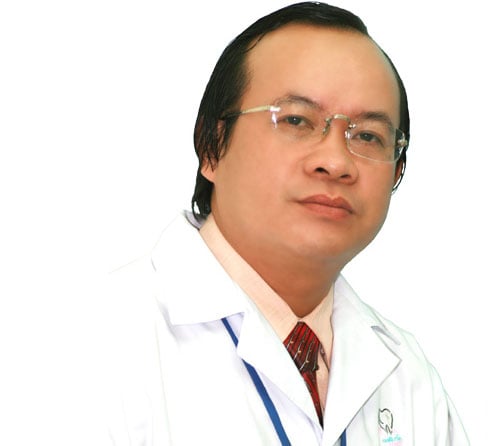 FIVE GOLDEN ELEMENTS MADE THE NHAN TAM DENTAL CLINIC BRAND
Professional ethics is the primary responsibility li>
Update and apply the latest dental technology to the treatment li>
Yearly experienced dentists team and 20 years customer's verification li>
Focus on the quality of service, ensure the results li>
The best customer care and services li>

COME WITH US TO GET YOUR HEALTHY TEETH
801-809 3/2 Street, Ward 7, District 10, Ho Chi Minh City, Vietnam li>
Hotline: 1900 56 5678 li>
Mobile: (+84) 903 632 701 - (+84) 938 967 858 li>