Dental crown restoration for Tetracycline-infected teeth
Date: 31/05/2018
/
Author: Mr Hiếu
Tetracycline-induced teeth are simply caused by direct use of antibiotics, or inherited from a pregnant mother and taken with antibiotics.

What to look for when planting permanent porcelain teeth

Dental crowns with E.max multipurpose porcelain system
When the teeth are infected with Tetracycline , the degree of darkening will depend on how long the drug is taken, how much it is, and whether it is yellow, brown or gray. Color change can occur on the entire tooth or on a single tooth. In general, when the color is infected, your teeth will look very aesthetic, if too heavy will cause defects and smiles from it will be poor.
Dental crown restoration for Tetracycline-infected teeth
The objective and subjective reasons cause the condition of tooth color loss aesthetic on your face. With the development of modern dentistry, it is no longer a matter of worry, much concern. Currently, there are two basic ways to improve Tetracycline's teeth : One is bleaching in the case of light-colored teeth; Second is the porcelain dental restoration for teeth infected with heavy color, bleaching is no longer effective solution, dental restoration is the ultimate solution, help you find a bright white teeth, healthy.

Patients suffer from tooth erosion and tetracycline infection
The results and methods may vary depending on the individual's condition
In the case of dental prosthetic restorations for teeth with Tetracycline , ceramic teeth Cercon CAD / CAM is considered as a modern aesthetic solution and is the first choice of most customers. This type of porcelain is highly appreciated, guaranteed health, chewing function, and especially ensure long-lasting effect.
Cercon is a non-metallic porcelain tooth, unlike metal porcelain that is a metal inner flap. Cercon porcelain uses ribs with zirconia and ceramic porcelain. Ziconia is a mineral with crystalline crystalline form, a mineral that is thoroughly researched and widely used in aerospace and other industries. The computer system with professional software, maintain accuracy and tightness. For the dental industry, ziconia is a special type of porcelain with high hardness, compressive strength better than conventional porcelain ribs. Ziconia is widely used in the design and manufacture of porcelain teeth. Cercon porcelain is therefore the most reliable and most widely used porcelain dental restorations.

Some images of porcelain prosthetic patients due to Tetracycline infection in dentistry.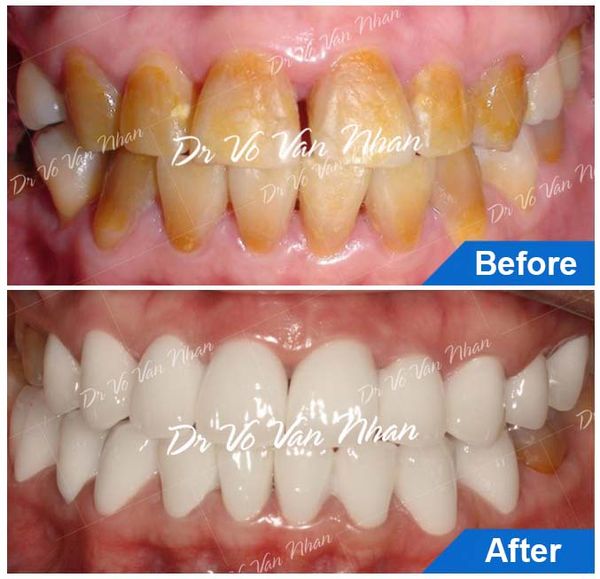 At Nhan Tam dentist, you can safely choose Cercon porcelain for restoration, because this technology is made under the hands of the most talented technicians. At the same time, the treatment for prosthetic care is focused on doctors, ensuring sterility and bring the aesthetic effect as high as possible.
Benefits of dental crown restorations for Tetracycline-infected teeth
Tetracycline is an antibiotic. Today there are Doxycycline, Minocycline ... are antibiotics in the same group with Tetracycline. To improve the color of the teeth due to tetracyclines by porcelain restoration to improve the color of the teeth, bring confidence when you smile. Dr. Vo Van Nhan, PhD, said: "If mothers take tetracycline-containing drugs while they are pregnant or if they are taking them before 7-8 years of age, they may change their color. The degree of darkening depends on the time, the duration of the drug, the dosage and the drug.
The most modern machinery in Nhan Tam dental clinic
The results and methods may vary depending on the individual's condition
There have been many patients treated with porcelain for tetracycline infection at Nhat Tam Dental Clinic. However, the effect of treatment depends on the individual's condition.
The tetracycline-shaped porcelain restoration offers a number of remarkable advantages, such as providing the most natural porcelain teeth, suitable for everyone's body, especially its durability. Good chewing force. In addition, if you choose porcelain ceramic Cercon, it has a good biological, allergenic, comfortable to eat equivalent to real teeth.
Contact or contact Nhat Tam dentist directly when you have any problems in the mouth, you will be consulted heartily and accurately as possible.

NHAN TAM DENTAL CLINIC
Address: 803-805-807-809, 3/2 Street, Ward 7, District 10, HCMC
Hotline: 1900 56 5678
Thank you for visiting www.nhakhoanhantam.com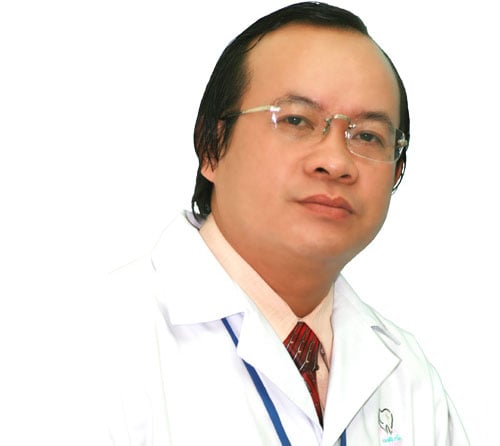 FIVE GOLDEN ELEMENTS MADE THE NHAN TAM DENTAL CLINIC BRAND
Professional ethics is the primary responsibility li>
Update and apply the latest dental technology to the treatment li>
Yearly experienced dentists team and 20 years customer's verification li>
Focus on the quality of service, ensure the results li>
The best customer care and services li>

COME WITH US TO GET YOUR HEALTHY TEETH
801-809 3/2 Street, Ward 7, District 10, Ho Chi Minh City, Vietnam li>
Hotline: 1900 56 5678 li>
Mobile: (+84) 903 632 701 - (+84) 938 967 858 li>