E.max dental crowns the best choice to restore oral aesthetic and teeth functions
Date: 31/05/2018
/
Author: Mr Hiếu
E.max: porcelain system that meets all clinical indications. At Nhat Tam Dental Clinic is equipped with E.Max porcelain system including both Glass Reinforce porcelain with 360MPa (e.max CAD) and Zirconium Oxide with a strength of over 950 MPa (e.max ZirCAD). So, just an E.max porcelain system, Nhat Tam dentistry implements all types of prosthetic restorations from individual prostheses requiring high aesthetic as single crowns, inlay - onlay, to long bridges. Up to 12 units require very high strength and durability.

Porcelain restorations for teeth, teeth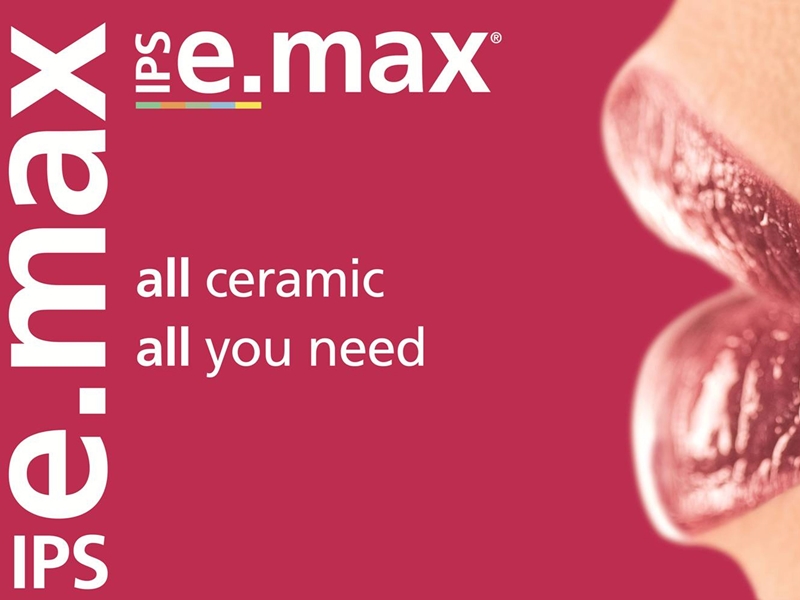 Advantages of E.max multifunctional porcelain system
- High biocompatibility and stability.
- No hypersensitivity in any susceptible patients.
Other properties of E.max restorations such as resistance to plaque buildup on clean teeth, no interaction with other materials in the mouth, and ability to isolate and cool .max is fully adapted to the oral environment.

E.Max is a porcelain system consisting of Glass Reinforce porcelain with a strength of 360MPa (e.max CAD) and Zirconium Oxide with a strength of over 950 MPa (e.max ZirCAD). So, with just one E.max porcelain system, we can make all kinds of restorations from individual prostheses that require aesthetic appeal such as singleton, inlay - onlay, to long bridges. Up to 12 units require very high strength and durability.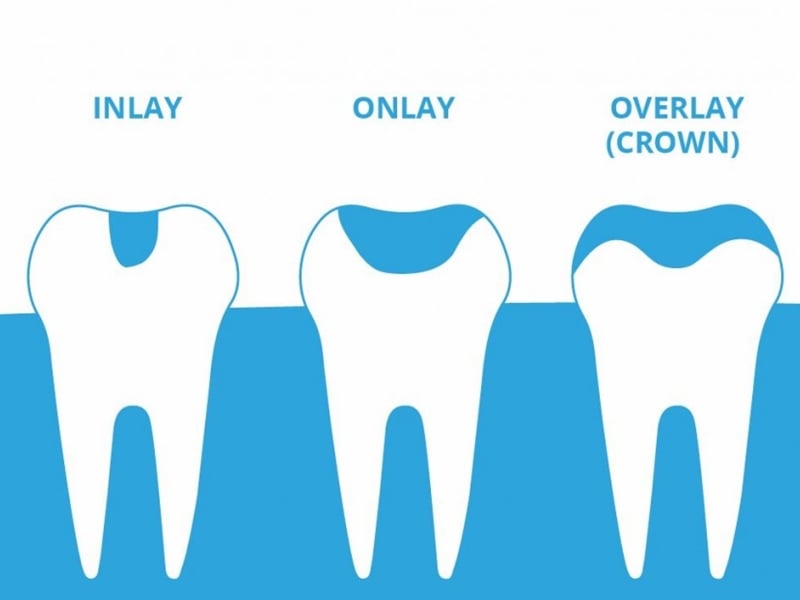 The Emax multi-purpose porcelain system can perform individual restoration to inlay / onlay restoration
E.max ceram is a porcelain glass or Zirconium Oxide, a component of NanoFluorapatite, which combines optimum baking temperature with a thermal expansion coefficient so that it can be used on both Glass and Zirconium porcelain chunks. Oxide. Therefore, only one porcelain system, E.max, can perform all clinical indications.
In Eos is a gyroscope model camera, bite marks, finishing lines. In Eos is capable of capturing and processing all types of restoration such as single crown, inlay, onlay, veneer, bridges from 2 to 12 units with ultrafast processing speed (2 seconds for 1 unit).
Inlab 3D is a computer system and software that processes data from In Eos. Inlab 3D software helps technicians replicate or simulate the same tooth shape.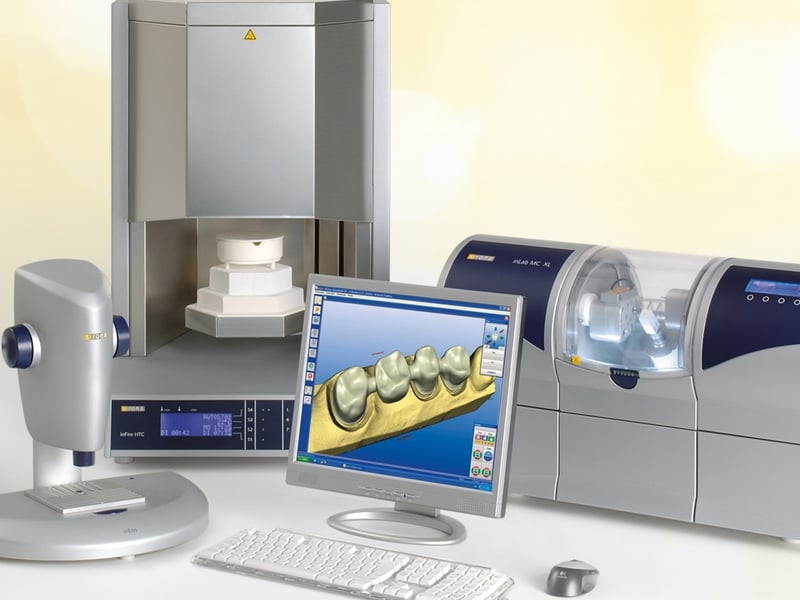 Inlab 3D System

Inlab MCXC: a versatile lathe, which can be used for complete restorations such as crowns, inlays, onlays, veneers within 12 minutes and can be immediately implanted clinically and can be fitted with long Zirconium oxide frames. 12 units with very high accuracy.
InFire HTC: Sintered Zirconium Oxide to achieve a hardness of over 900 MPa.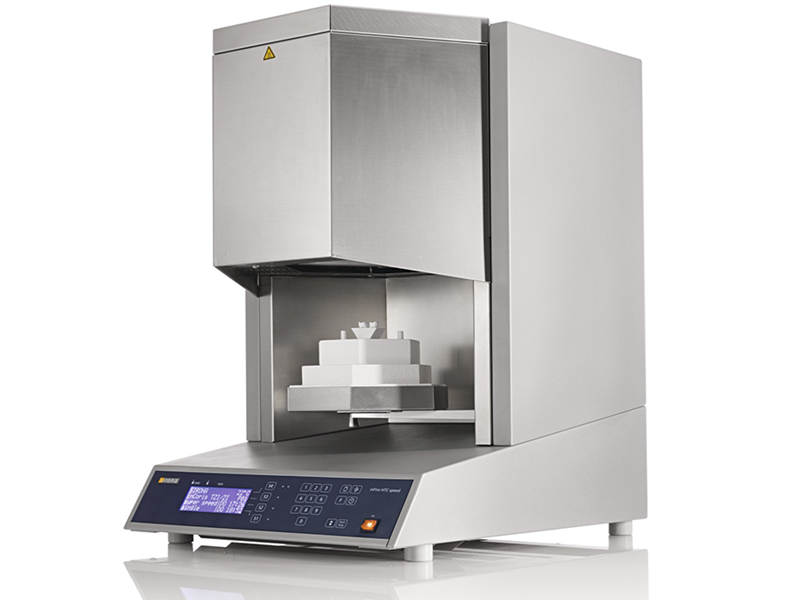 HTC Infusion System
Ceramic e.max ceramic cover is a new porcelain with nano component - Fluorapatite, structure and characteristics such as enamel make optical effect (transmission, reflection, refraction) make the dress. The picture looks real like real teeth.
Lithium Disilicate (e.max) ceramic porcelain frame allows penetrating light such as dentin properties for excellent aesthetics. Zirconium oxide ribs (e.max ZirCAD) with ribbed dyeing technology that meets color specifications, aesthetics in modern porcelain restorations.
Now, with advanced 5-D CT technology, with the aid of a complete porcelain dental system on a CAD / CAM computer, a porcelain tooth can be made in the lab for 15-30 minutes. The whole ceramic porcelain process can be completed in just one single session within 24 hours without having to wait long. The following is the process of upholstery made in accordance with international standards in Dental Center.
1. The first ceramic porcelain process: Grinding teeth - Sampling teeth - Making porcelain teeth
+ Prepare the tooth (grinding teeth)
- Doctors prepare dental crowns ready for dental porcelain. All porcelain samples have a minimum thickness to ensure sufficient strength, strength as well as balance with full teeth. This means that your porcelain crowns need to be polished but at a certain rate.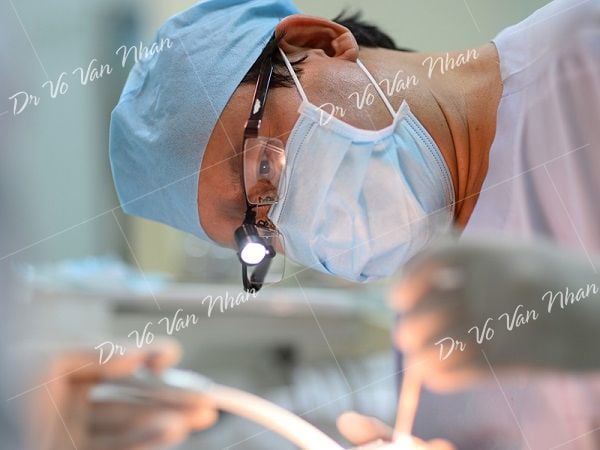 The treatment process of porcelain at Nhan Tam Dental Clinic is done by experienced doctors
- Before root canal treatment, the dentist performs endoscopic treatment: removal of decayed tooth part, root canal treatment ... (filling the canal if inflamed). The operation of teeth grinding is more or less invasive to the teeth, which can cause sensitivity to the patient, so prior to grinding the dentist will perform local anesthesia to minimize pain.
In addition to reducing the overall size of your teeth, your dentist must also cut it so that it has a particular shape as a gradual reduction of the crown from the crown so that the crown can easily slide down. A porcelain crown is not only preserved by dental cement, but the crown it attaches to it plays an extremely important role in providing stability and maintenance of the porcelain crown. In cases where the teeth are too heavy to be removed or lost, the porcelain crowns will be implanted on the abutment screw.
The dentist must have experience to determine exactly how much the tooth whitening rate is. Excessive grinding causes damage to the teeth and can later cause sensitivity to the patient, but if the grinding is too little, when the porcelain is clogged or porcelain crowns can not slide down the real teeth. This is an important operation in the entire porcelain crown process.
+ Get real teeth
After having teeth grinded, the dentist will proceed to obtain the seal. Nhan Tam Dental Center is equipped with a CAD / CAM system that attaches an optical camera to capture the teeth and run image data on the computer from which the imitation of natural teeth is made. OK.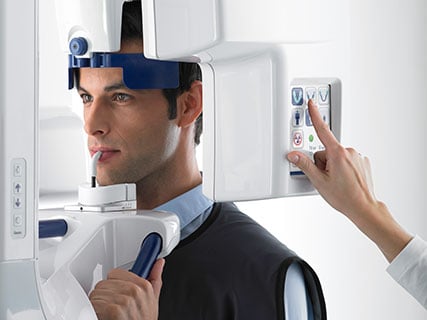 Cone Cone Beam 3D System
Using this image, the grinding machine will grind E.Max down the dental porcelain cubicle into a precision shape that resembles your orthodontic teeth. The whole process takes only 30 seconds. The obvious advantage of this technique is that the dental porcelain can be attached to the position in a single treatment, which helps to shorten the time needed for the porcelain crown.
+ Place temporary dentures
In some cases it is not possible to fix the dental porcelain immediately, the abutment or abutment need to be covered with temporary dentures. This false denture is usually made of plastic, acrylic or a thin metal casing reinforced with "temporary" dental cement that can be easily removed.
2. The second porcelain crown: porcelain for teeth
Once your porcelain tooth is finished, the dentist can proceed to insert your porcelain tooth.
For cases in the dental center that do not use CAD / CAM, which is a porcelain cyst that requires 2 treatments, the physician will anesthetize first, remove the temporary denture, and remove any remaining specimens. Back of the temporary cement remaining on your teeth.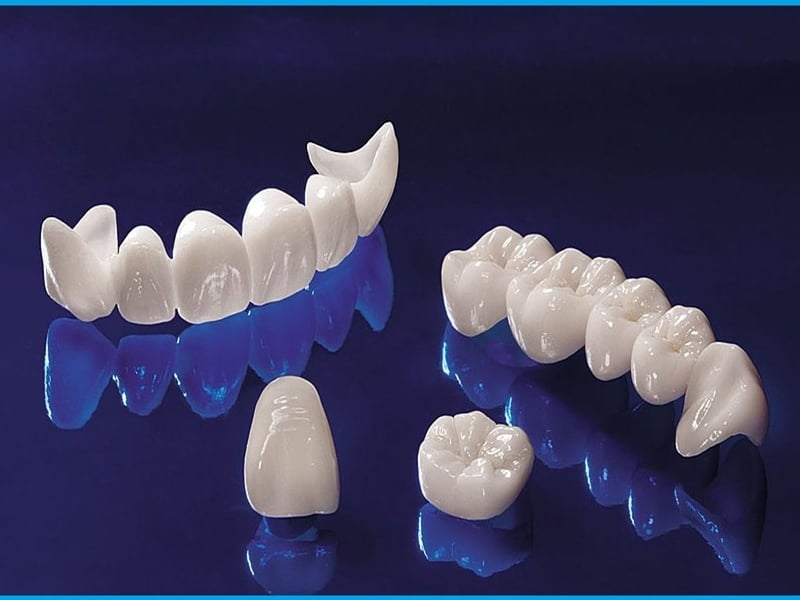 All-ceramic porcelain Emax guarantees superior aesthetics and strength
The dentist places the crown on the crown or the abutment screw, checking the color - the shade is actually matched to the natural tooth color. You may be asked to bite gently while the dentist uses a specialized dental device to check the position of the dental porcelain, continuously adjusting until the porcelain teeth are properly positioned to match the bite as well as joint. Good connection with side teeth.
With teeth in a recognizable position like the front teeth, you will be consulted by the dentist. When you agree that everything is right for your natural teeth, dental cement will be applied. After a few minutes, this cement will establish a strong bond. The dentist will use the shaving tools to remove excess cement pushing up from beneath the porcelains. The position of the permanent porcelain teeth is complete.
3. Porcelain crown process - 3rd: finishing
When the position of the porcelain tooth is fixed, you will be instructed by the dentist to take care of the porcelain tooth. Especially when the anesthesia works out, you need to make sure that when you mildly bite the feeling of natural, not distorted or painful. If not, let your dentist know to fix the problem, avoiding more serious complications.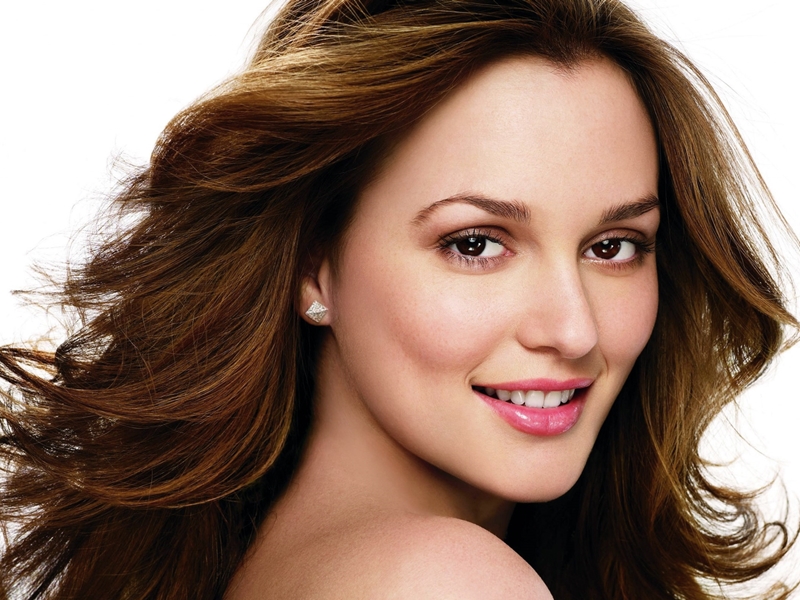 Emax porcelain brings a complete aesthetic after treatment
At present, the whole process of dental crowns occupy within 1 day thanks to the application of CT technology with European standards with the support of modern machines combined with labo dentistry. modern science. The automatic scanner allows accurate marking along with the CEREC dental porcelain making sure that the correct tooth rests to each groove.
The center is equipped with the Extra AS disinfection system to ensure the entire process of safe service place in the absolute sterile environment, while minimizing the pain. Save time, bring the most comfortable feeling as well as the most quality results from the materials E.Max - Cercon imported genuine warranty for the user is the motto of the operation of Tam Tam .

For more specific advice on planting porcelain with E.max multipurpose porcelain system and to make this method effective, safe, please contact Nhat Tam dentistry at Hotline: 1900 56 5678 , Experts will answer all your questions and make appointments as quickly as possible.

NHAN TAM DENTAL CLINIC
Address: 803-805-807-809, 3/2 Street, Ward 7, District 10, HCMC
Hotline: 1900 56 5678
Thank you for visiting www.nhakhoanhantam.com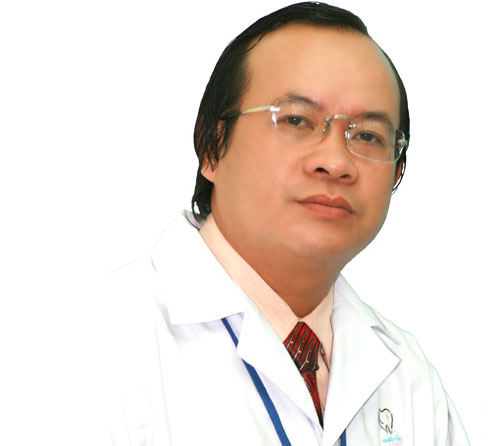 FIVE GOLDEN ELEMENTS MADE THE NHAN TAM DENTAL CLINIC BRAND
Professional ethics is the primary responsibility li>
Update and apply the latest dental technology to the treatment li>
Yearly experienced dentists team and 20 years customer's verification li>
Focus on the quality of service, ensure the results li>
The best customer care and services li>

COME WITH US TO GET YOUR HEALTHY TEETH
801-809 3/2 Street, Ward 7, District 10, Ho Chi Minh City, Vietnam li>
Hotline: 1900 56 5678 li>
Mobile: (+84) 903 632 701 - (+84) 938 967 858 li>